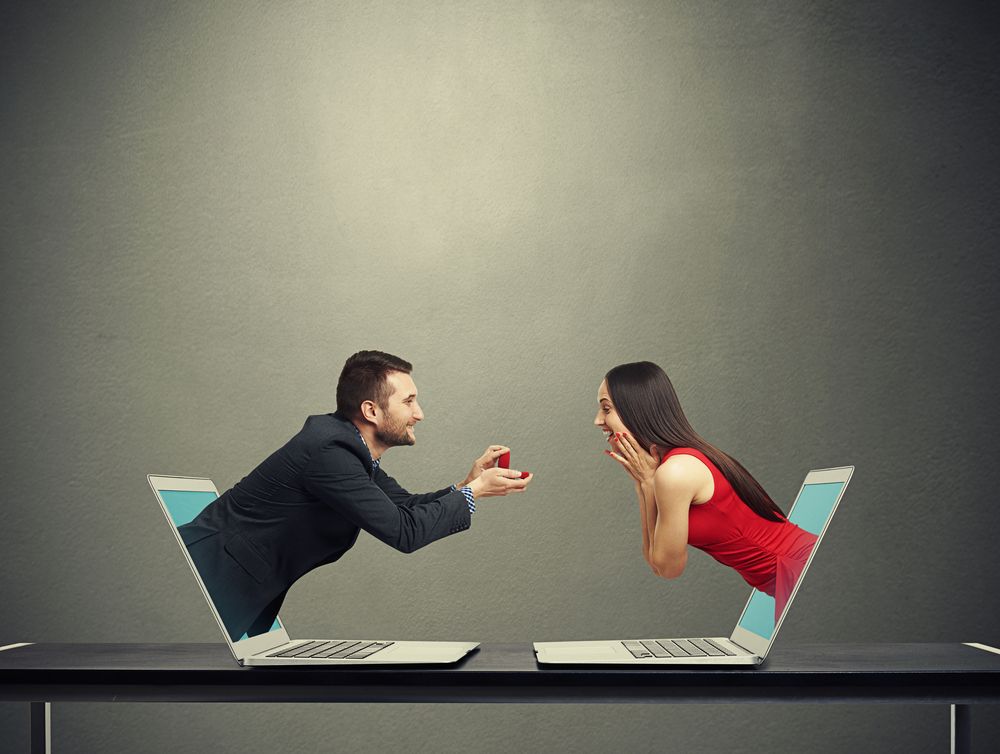 Update: 4/20/2020
Governor Andrew Cuomo announced over the weekend that New York state will now allow weddings to take place via videochat:
---
All the plans were made, guests were invited, and venues were booked. Then the coronavirus outbreak hit. Now, most of the country is mandated to stay indoors and group gatherings have been completely banned. Couples who have been dreaming of their wedding day for years are now facing the unimaginable: postponing the ceremony entirely.
For some, that means a new wedding date later this year or in 2021. But others don't want to wait until restrictions are lifted to tie the knot.
Amid the COVID-19 outbreak, brides, grooms, and ministers alike have been asking about harnessing the power of the internet for marriage. Can you bypass coronavirus restrictions by getting married online or performing weddings via the internet?
We did some digging to look for answers. Here's what we found.
Getting Married on Zoom or Skype
Services like Facebook Live, Skype and Zoom all provide platforms for people to meet virtually. Many of ULC ministers who can no longer get to the same physical space as the bride and groom are now exploring the option of officiating a virtual wedding from afar.
Unfortunately, this remains a legal grey area. If you research the marriage laws in your area, you likely won't find a section addressing virtual weddings specifically. What you will often find is language mandating that both members of the couple and the minister need to be physically present to sign the marriage documents. In almost all states, that is a requirement.
However, there are a few exceptions to this rule – primarily through a little-known legal provision known as proxy marriage. 
Marriage by Proxy
By proxy wedding or by proxy marriage is a type of marriage ceremony whereby one (or both) members of the couple are not physically present for the wedding. In certain states, the law allows someone to stand in the place of a bride or groom, and using power of attorney, sign the marriage documents on their behalf.
This workaround is typically reserved for members of the military who are stationed overseas, or in other circumstances of physical limitation. It's unclear how coronavirus restrictions would be treated under this law.
The list of states that allow wedding by proxy is a short one: California, Colorado, Texas and Montana. Montana is unique – it's the only state that allows both members of the couple to have a proxy stand in.
Unfortunately, it does not appear any state law addresses the concept of a by proxy minister.
Why Online Marriage May Not be Legal
Not having a minister physically present for a wedding ceremony could potentially create a number of legal issues. First, the law in each state – usually in the portion that addresses the solemnization – lists the requirement that the minister sign the marriage license. If the minister is not present, then they obviously cannot take this important legal step.
The second problem is that a marriage license is typically valid only in the county where it is issued. Therefore, a minister using a video app like Zoom or Skype to perform vows from somewhere else in the country (or even the state) may not actually be allowed to perform a legally binding ceremony. Even if the minister is within the same county, issue #1 remains.
So here's the frustrating conclusion: as far as we can tell, in almost all places in the United States, it is most likely not possible to have a legally binding marriage online, or without the minister and both members of the couple physically present in the same space. Until this particular situation is addressed directly with new legislation or relaxation of the physical requirements, it appears getting married online legally will have to wait.