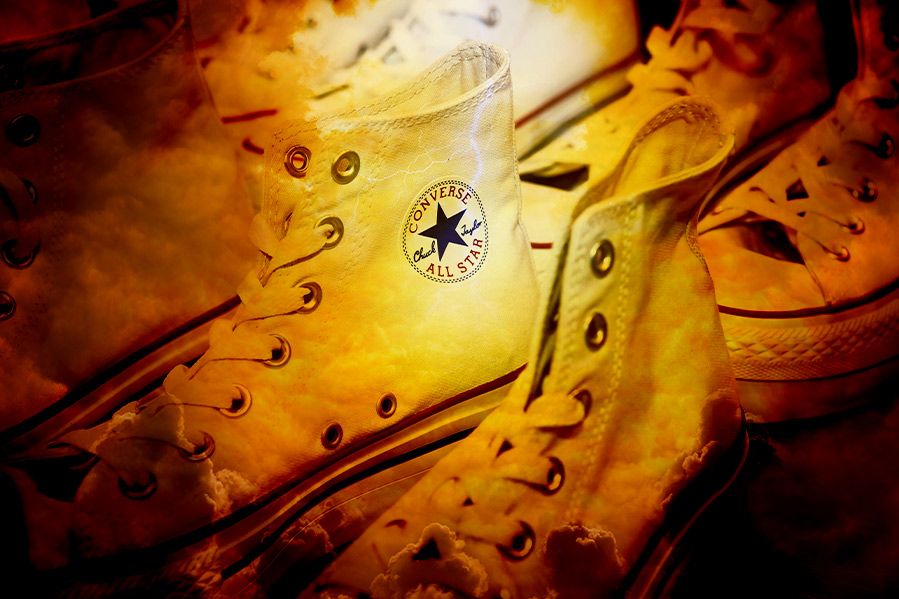 Satan's got a hot new set of shoes… again.
For the second time this year, people are panicking over allegedly "Satanic" footwear. The latest controversy involves Converse, which announced the release of a shoe critics are calling "Satanic propaganda". 
The new Converse design features a small pentagram on the tongue in place of the standard Chuck Taylor star. Though the symbol is so small it can barely be seen, the stir it has caused – just days after its announcement – is gigantic.
Many criticized the company's decision to produce this shoe in the first place. Why are people so worked up?
"Converse, You Need Jesus"
The shoe was announced on Instagram along with a photoshoot of models in heavy black and white makeup modeling the new footwear – imagery that perhaps contributed to the visceral online reaction.
"This is sad, I grew up wearing Converse but seeing that satanic marketing through your shoes, I won't be buying into this. God help you!" one fan wrote on social media.
"I'm too Christian for this collab," another said.
"Stop satanic propaganda!" another top comment pleaded. "Converse, you need Jesus ASAP!!"
What's in a Pentagram?
Converse defenders were quick to chime in, pointing out that it's just a symbol and arguing that getting so worked up over a little Satanic imagery is kind of outdated. This isn't exactly Salem circa 1692, why are we losing our collective minds over five lines arranged in a particular pattern?
Converse's new shoes come as part of a collaboration between Converse and iconoclast fashion designer Rick Owens. The upside-down pentagram is an oft-used symbol for Owens, who explained its meaning:
"I've been using this pentagram for a long time because obviously, it has adolescent occult associations," he stated. "But one of the main things that I think it suggests is empathy and a consideration of systems of living that might not be standard. So that leads us to be more accepting and tolerant of other systems, which I think is a good thing."
By that explanation, the design's intentions aren't nearly as sinister as critics make them out to be. 
But perhaps intentions don't matter. Many automatically view the pentagram in a negative light, associating it with a dark, scary version of Satanism – as opposed to the more open-minded version described by Owens.
Sin-sational Shoes
Somehow, this isn't the first occult footwear controversy of 2021. The first "Satan shoe" of the year came courtesy of rapper Lil Nas X.
Back in March, he released a black and red Satan-themed shoe that also featured an upside-down pentagram, as well as a single drop of human blood in the sole of the shoe. Those shoes were similarly received, with even high profile politicians and faith leaders insisting that these shoes – released by a 22-year-old rapper – were part of a holy war for the very hearts and minds of this nation's children. 
As South Dakota Governor Kristi Noem said at the time, "We are in a fight for the soul of our nation. We need to fight hard. And we need to fight smart. We have to win."
For Lil Nas X, releasing that shoe was an act of defiance. He says the shoes, and the public reaction that followed, were payback for decades of mistreatment for his sexual orientation. He responded to critics on Twitter by stating "i hope u are mad, stay mad, feel the same anger you teach us to have towards ourselves."
As for the new Converse, they say on Instagram that the new Satanic shoes are "about disrupting formality—embracing traditional structure and then blowing it up." Considering the social media meltdown, they can consider that second part a strong mission accomplished.
What do you think of Converse's new shoes? Is the harsh reaction online justified, or are people simply overreacting?