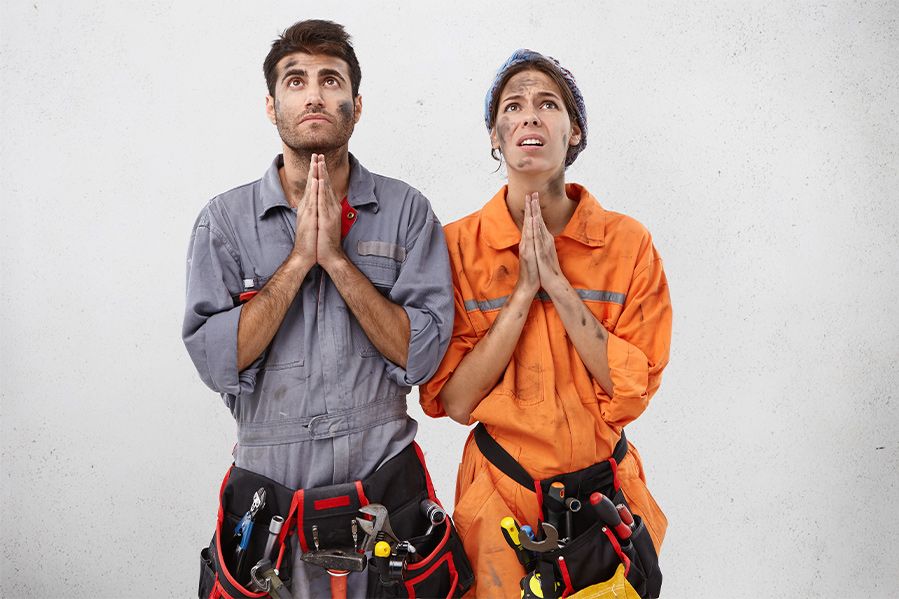 Two former construction company workers are suing their employer after they were let go for allegedly refusing to participate in company prayer.
John McGaha and Mackenzie Saunders filed a lawsuit against Aurora Pro Services, a construction company in North Carolina, alleging they were compelled to attend mandatory Christian prayer sessions at work. 
The lawsuit asserts that when McGaha and Saunders refused to join the rest of the company in prayer, they were publicly admonished, had their pay cut, and were ultimately fired. 
In other words: blatant religious discrimination, the workers argue. 
This Wasn't in the Job Description
Per the lawsuit, one of the workers was told by his boss that he didn't have "to believe in God," and he did not "have to like the prayer meetings," …but he did have to participate in them.
The prayer sessions, held daily, reportedly lasted more than an hour sometimes and included everything from the recitation of the Lord's Prayer in its entirety, to prayers for poorly performing employees. As part of this tradition, people's mistakes would be aired out in front of their colleagues.
When one of the employees listed their objections to participating in the prayer meetings because they were becoming "cult-like," the business owner allegedly told them that it would be in their "best interest" to keep praying. 
The workers, who identify as atheist and agnostic, were ultimately let go. But one saw his pay get cut in half in September 2020 before he was fired. This punishment, he believes, was for his dissent over attending the company prayer.
Now, the ex-employees are suing, with the backing of the U.S. Equal Employment Opportunity Commission (EEOC).
The EEOC alleges that Aurora Pro Services violated federal law by retaliating against non-religious employees. As one EEOC attorney put it, "employers who sponsor prayer meetings in the workplace have a legal obligation to accommodate employees whose personal religious or spiritual views conflict with the company's practice."
Pray to Jesus… or Else
Though Aurora Pro Services' home page makes no mention of mandatory prayer sessions, it is filled with biblical references, including a testimonial from the owner that "the solution can always be found in God." 
The namesake of the company appears to be the owner's grandmother Aurora, who, the website declares, "had a [deep] faith in God."
The company's career page, however, doesn't list having a strong Christian faith as a workplace requirement. It also makes no mention of mandatory company prayers.
Business owners are entitled to their faith, just like anyone else.
But the EEOC is arguing that a legal line is crossed when employees are forced to participate in religious activities that conflict with their own beliefs. 
How might things be received if the shoe were on the other foot? Consider a Muslim-owned shop that forced Christians to pray towards Mecca every day, or an atheist-owned business that forced Christian employees to denounce Jesus every morning.
Is it okay to force employees to participate in religious activities, or was the company in the wrong here?