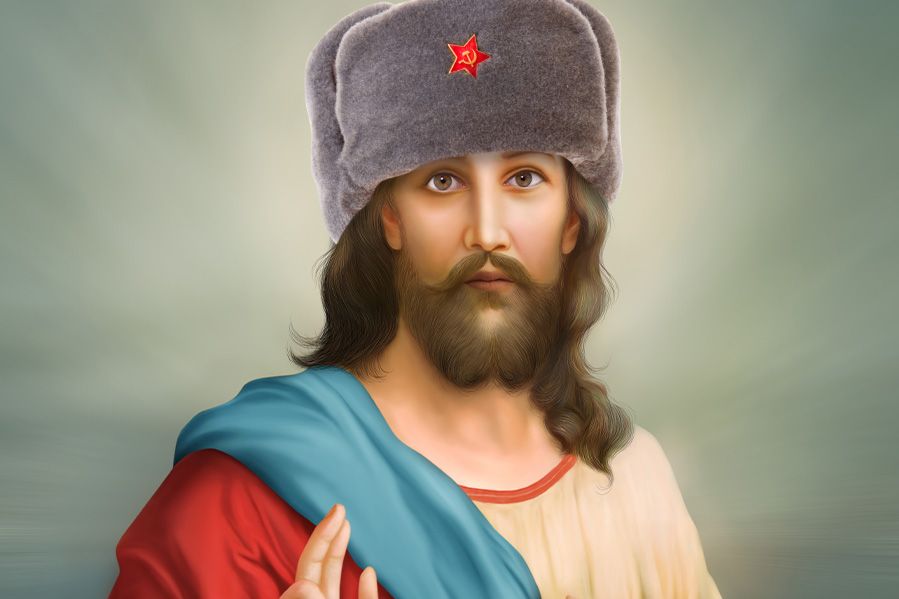 Was Jesus a communist? That's what the head of Russia's Communist Party thinks. Drawing numerous links between communism and Christ's teachings, Gennady Zyuganov argued in a recent interview that Jesus was actually the very first communist.
"Put Jesus' Sermon on the Mount and the Moral Code of the Builder of Communism next to each other, and you will just gasp," Zyuganov said. "We need to study the Bible."
This link between Jesus' teachings and communism is more popular than some think. 'Christian Communism' is a theological viewpoint that holds that the first Christians, including the apostles, practiced their own form of communism, and that Jesus himself espoused communistic principles.
Of course, some strongly push back against the idea that Jesus would seize the means of production, and argue he was actually a staunch capitalist.
So... was Jesus the first communist? Let's examine the evidence.
Comrade Christ?
Christian communists would emphatically say yes, and they've got the scripture to back their claims up. They frequently cite Acts 2:44-45 and Acts 4:32-35 as proof that early Christians practiced an early form of communism, living communally, sharing possessions, and redistributing wealth: 
"All the believers were one in heart and mind. No one claimed that any of their possessions was their own, but they shared everything they had... For from time to time those who owned land or houses sold them, brought the money from the sales and put it at the apostles' feet, and it was distributed to anyone who had need."
They also point to numerous seemingly anti-wealth passages in the Bible as proof that Jesus was anti-capitalist. 
"You cannot serve both God and money," "it is easier for a camel to go through the eye of a needle than for a rich man to enter the kingdom of God," "the love of money is a root of all kinds of evil." The list goes on.
It's hard to argue with that. Or is it?
Jesus the Capitalist?
Well… there's one very, very famous Christian leader who might disagree.
"Can a Christian be a communist? I answer that question with an emphatic 'no.' These two philosophies are diametrically opposed," said Martin Luther King Jr. in a 1962 sermon. "The basic philosophy of Christianity is unalterably opposed to the basic philosophy of communism."
King also stated that because there are no "fixed, immutable principles," things like "force, violence, murder, and lying" are acceptable means to an end for communists - actions King obviously personally opposed. King also preached against what he viewed as the materialism and godlessness of communistic societies. 
Still, he praised the post-class ideals of communism as well as their concerns for social justice and eliminating racism.
Many modern Christians argue that communism (and socialism) endorse theft, saying that although the Bible encourages charity, it does not enforce it. Instead, they say that the Bible is explicitly pro-capitalism.
They might point to Genesis 1:28, which says that we are to subdue the earth and have dominion over it. Or they might point to 2 Corinthians 9:7, which states that "each man should give what he has decided in his heart to give, not reluctantly or under compulsion."
As is often the case in disagreements like this, both sides think God is on their side.
What do you think? Was Jesus a communist, capitalist, or something in-between?