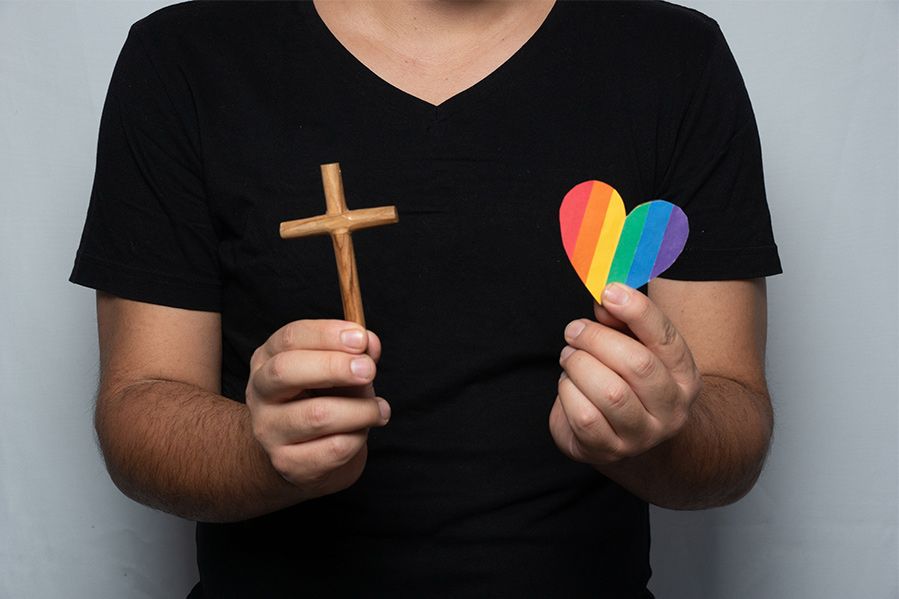 Would God support rights for transgender youth? That's the question clergy members in some states are trying to tackle.
Meanwhile, those with trans kids of their own feel like they're backed up against a wall. 
Gender-affirming care for minors has been a major source of controversy in this debate. One side argues that medically transitioning a child to their preferred gender is child abuse, and the other side insists that not medically transitioning a child to their preferred gender is child abuse. 
More than half of U.S. states have proposed bills in some way restricting gender-affirming care for minors, and five so far have passed bills doing just that. Some states – Texas, Missouri, Oklahoma – have introduced upwards of 20 bills which in some way restrict the rights of trans people this year.
In some communities, local clergy say they want to protect children from overzealous parents and doctors by legally preventing trans youth from transitioning until they reach 18 years of age.
But clergy members with trans children are seeing firsthand the effect these bills are having on their kids, and they're sounding the alarm.
A War on Children?
"Our state is at war with our family," says Rabbi Daniel Bogard of Missouri. "It's not an exaggeration that we are up at night talking about when and how far we might have to flee."
Bogard has a nine-year-old transgender son, and says he fears for his son's future.
He also views the anti-trans movement as an unjust intrusion of religion into the public sphere. "It's the imposition of one religious group's gender norms on the rest of us. It's theocracy and fascism," argues Bogard.
He's referring to the myriad anti-trans bills making their way through the Missouri legislature, 32 and counting just this year by the ACLU's count.
While bills restricting trans athletes from competing in school to bills restricting LGBTQ-focused books in schools are common, the bills that the Bogards and other parents of trans children particularly fear are ones which would prevent gender-affirming care for trans youth. 
They say they'd be forced to leave Missouri if such a bill passed, believing it to be nothing less than an attack on their son's life.
Changing Minds
But state lawmakers passing these bills say they're doing it to protect children, and that God is on their side.
Proponents of restricting gender-affirming care argue that transgender children will have every right to medically transition… when they're 18.
"I am a man of faith and I am a Christian, and I believe the Lord gives us free will," explained MO. state Rep Justin Sparks in a legislative session. "And when you are above the age of 18, you will have free will."
Others argue that transgender identity itself is an affront to their religious freedom, however.
Fighting for the Right
In Missouri, clergy members with trans children like Daniel Board are traveling to the state capital to make their case, using the one weapon they believe they have in this fight: empathy.
"We want them to see the cost of what they are doing to families like ours," says Bogard.
As Rabbi Picker Neiss, parent to another trans child says, "I don't think God lives in binary. I think everything in our world has so much room for complexity and multiplicity."
These clergy members hope to provide another perspective to state lawmakers – many of them religious. By using their own status as faith leaders, they hope to reach hearts and minds. 
What Comes Next?
Both sides of this debate say they only want to protect children. The problem is, they disagree strongly on what that word means.
We're seeing two different groups approaching the issue from a faith perspective, and yet their opinions could not be further apart.
What is your reaction – do you foresee a resolution to these complicated questions? What is the best way forward?