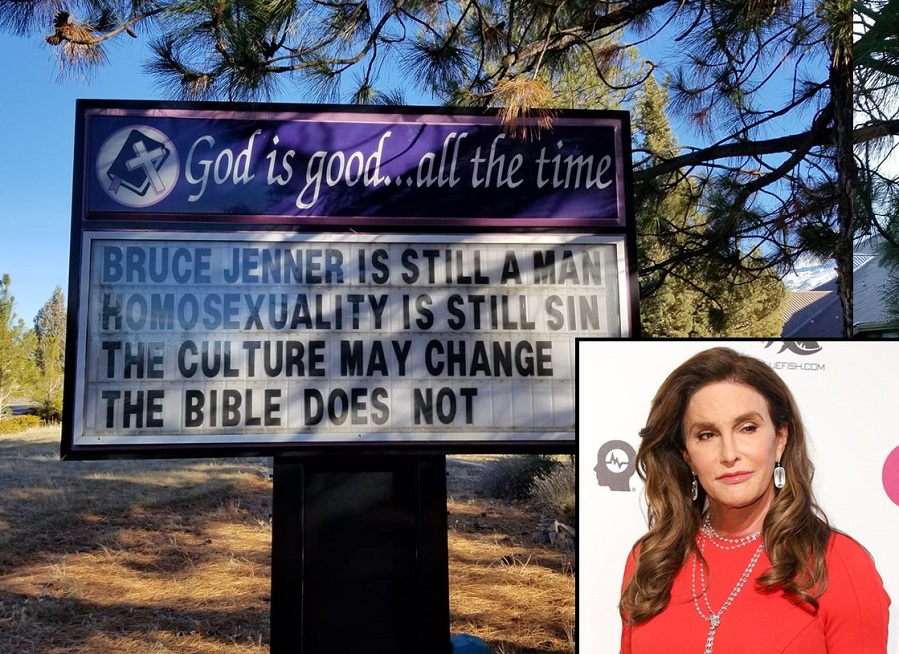 ---
A California pastor has been ousted from his parish after putting up a controversial church sign that sparked protests and pitted church leadership against its own congregation.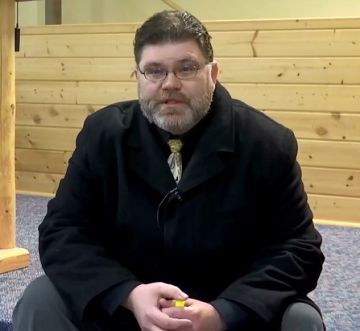 The conflict began when Pastor Justin Hoke of Trinity Bible Presbyterian Church decided the church's sign out in front of the building needed an update. He settled on a punchy bible-themed message referencing former Olympic athlete Bruce Jenner, who famously transitioned to being a woman in 2015. The sign read:
_BRUCE JENNER IS STILL A MAN
HOMOSEXUALITY IS STILL SIN
THE CULTURE MAY CHANGE
THE BIBLE DOES NO_T
It wasn't long before local LGBT groups, outraged by the sign, organized a peaceful protest outside the church. But unknown perpetrators returned to vandalize the sign under the cover of darkness, spurring Pastor Hoke to express his disappointment about the incident in a Facebook post. "If a conservative mountain farming community is no longer a safe place to call sin, sin, then is anywhere in this country still safe for real Christians?" he wrote.
Undeterred, he personally saw to it that the sign was repaired and put back up.
Story Spreads Nationally
Unfortunately for Hoke, this saga caught the attention of national media outlets, and images of his sign were soon splashed across the internet. This sudden unwanted attention, coupled with such a politically-charged message being attached to their church, made congregants uneasy and shook their confidence in the pastor's ability to lead. He was then relieved of his duties by church elders.
According to his latest Facebook post in which Hoke announced he'd been ousted from his position, nearly everyone in the church had threatened to leave if he wasn't fired as pastor.
Christian Community Reacts
Despite the stinging backlash from members of his own congregation, the overwhelmingly positive response on Pastor Hoke's Facebook page shows that he's still got plenty of allies in the Christian community at large.
"Many are called but few are chosen..The Lord will punish to whom it may concern..Pastor Sir, keep up, move on,dont give up..Where the Lord calls you He will put Joy in your Heart..Wisdom be granted unto you Sir" wrote one person.
"I applaud your stand for Biblical truth. It is a sad day in the USA when freedom of speech no longer means freedom to proclaim Biblical truth!" said another. "Everything on the church sign was correct. Praying for you, Pastor. Stand firm in the faith" offered a third.
Are Biblical Values a Winning Message?
In an age when church attendance is at historic lows and social attitudes toward LGBT issues are rapidly evolving, it's worth questioning whether broadcasting strict biblical messages is the most effective strategy for churches struggling to retain followers and attract new members.
Clearly, saying "Bruce Jenner is a man" will resonate with some sections of the population, but it's also a divisive statement that could turn potential churchgoers away from the faith. For Justin Hoke, the gamble to be provocative obviously didn't pay off but that doesn't mean this strategy will die off anytime soon.  
What's your reaction?