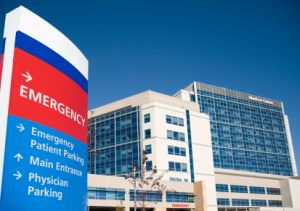 Pretend for a moment you are going to have a potentially life-threatening miscarriage, but the doctors refuse to perform an abortion on religious grounds. This is the experience of multiple women who have sought treatment at local hospitals, entrusting medical personnel to make the best decision for their health. Religious-affiliated hospitals themselves are not objectionable--it is when they merge to create regional, tax-funded monopolies, that they deserve our scrutiny as ministers ordained online.
Investigative journalist Cienna Madrid highlights this problem in a recent issue of the Seattle alternative weekly The Stranger. She describes the recent high-profile case of Savita Halapannavar, an Irish dentist who sought an abortion when she discovered the impending miscarriage of her fetus. The doctors denied her the procedure, saying, "[t]his is a Catholic country," and after she was forced to give birth to the stillborn fetus, she developed a severe infection and died soon after pro-life indeed. What ordained ministers may not know is that similar cases have popped up in the United States. Madrid also tells the story of Mary, whose real identity remains anonymous. Mary was denied an abortion for the same reason at Seattle's Swedish Medical Center, which had recently merged with Providence, a Catholic-affiliated institution that abides by the Church's Ethical and Religious Directives. In her case, the fetal heartbeat stopped soon after she was admitted. Thankfully Mary did not suffer the same fate as Cienna.
The ERDs, which are written down by bishops at the Vatican, form the basic ethical guidelines for medical procedures at Catholic health-care institutions around the globe, and are monitored through hospital ethics committees overseen by local bishops. "Catholic health institutions may not promote or condone contraceptive practices," reads one directive, while another states that contraception is only available to rape victims if conception has not yet taken place. Also prohibited are egg and sperm donors, which "contravene the covenant of marriage," and surrogacy denigrates "the dignity of the child and marriage". The ERDs even prohibit Catholic-affiliated hospitals from helping couples conceive artificially, since test-tube babies "separate procreation from the marital act in its unitive significance". For people who choose to become a pastor, this presents a problem for religious freedom and medical rights.
The problem isn't the fact that Catholic-affiliated hospitals impose their own ethical guidelines on doctors and patients--it is that they form regional monopolies through mergers, forcing patients to travel long distances to find non-sectarian hospitals which provide services like elective abortions, contraception, end-of-life care, or care for LGBT people. It is this fact that should make Universal Life Church ministers wary. Madrid points out the case of San Juan Island, Washington, where the only hospital is the Catholic-affiliated Peace Health. To receive services like end-of-life care, island residents must take a ferry to the mainland, since it contradicts Peace Health's Catholic teachings. Moreover, island residents are forced to pay $1 million in property taxes to help fund this institution, despite the fact it prohibits services many of them may need, a possible violation of the state constitution's amendment barring religion in government.
It barely needs mentioning that Universal Life Church Monastery supports the freedom of organizations to set up hospitals which reflect the beliefs of those organizations, but it also supports the freedom of patients to obtain medical care unavailable at those organizations. When the only hospitals available in a region deny that care on religious grounds, it begins to constitute religious imposition, not religious freedom, and the rights of patients deserve to be defended.