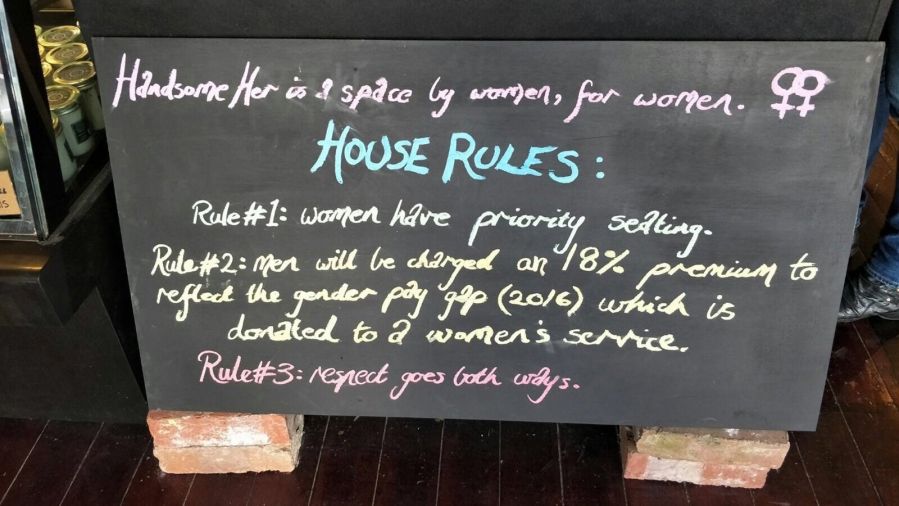 A sign placed outside a café in Australia has created quite the stir. The "Handsome Her" coffee shop had only just opened when it was thrust into the limelight but not necessarily in a positive sense. The female-owned and operated café put out a sign listing three "house rules":
Women have priority seating.

Men will be charged an 18% premium to reflect the gender pay gap (2016) which is donated to a women's service_._

Respect goes both ways.
As is often the case these days, it didn't take long for the backlash to begin. A picture of the sign went viral and generated a storm of criticism online. Detractors jumped on the 18% tax, calling it discriminatory against men and totally antithetical to the feminist movement.
Why Tax Men?
The café's slogan is "a space for women, by women." And they're serious about it, says manager Belle Ngien. The tax, she explains, is intended to spread awareness about the wage gap between men and women. Why 18%? Well, an official study found that men earn an average of 17.7% more than women in Australia. Ngien and her coworkers simply want to even the playing field a bit by charging men more for coffee.
Ngien says that as of yet, no one has declined to pay the tax. Many patrons have even offered more. "18% is actually not a lot. Our coffee is $4, so 18% of that is 72 cents," she explains.
Not Everyone Is Buying It
However, this explanation proved less than satisfactory for many online critics. They argue that it's a classic case of reverse discrimination. Instituting a "gender tax" is not a step toward progress, they insist. If anything, it might actually make things worse.
Discriminating against individuals for the group they belong to - race, gender, sexual orientation, ethnicity - is morally and legally wrong

Danny McLean (@Dan___McLean) August 7, 2017

Not a fan. Whilst appreciate highlighting the issue of pay, creating an us and them is divisive. Flip this, and Twitter is in flames.

Pauloncè (@PJS_84) August 3, 2017
A Solution to Inequality?
Many agree that taking steps to promote equality is a positive thing. However, people tend to disagree on the right methods to achieve this goal. If we have evidence that one group has distinct advantages over another, is it OK to use taxes to even things out?
Advocates for these so-called "privilege taxes" say they're a no-brainer. What better way to balance the scales and raise awareness that hitting people where it hurts: their wallet?
But critics insist this is a slippery slope. Where will these taxes end? If we decide to go down this road, will the future economy also include a "race tax" or an "intelligence tax"? Things could get easily get out of control, they argue.
What do you think?