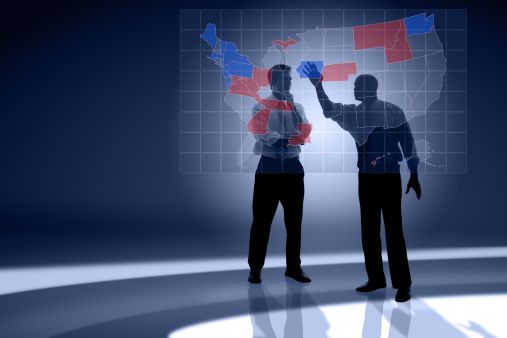 In politics we assume that when we see one side as wrong, the other side must be right. Reality doesn't always conform to that notion and often times, both sides are wrong. We hear complaints about government from folks of all stripes but what if we realize that there has been wrongdoing by both parties? Our political landscape, like an interfaith church, is comprised of a plethora of people that have different views and goals. Just as it is difficult to function as an interfaith church, our nation must learn to compromise for the greater good or the United States as we know it is damned to Hell.
America was built on the notion of checks and balances. This means that different parts of government do not have unilateral power. This also means that gridlock is a natural occurrence. Currently, the checks and balances model just doesn't work. It's "agree with us or the government will shut down" and, in the alternative, "If you do this, we will veto it or sue you." The people of the United States lost their government under the Supreme Court decision in the Citizens United case. That case simply says that big money can now own America, and it does!
Our leaders, both Republican and Democrat, can never get full congressional support on any issue because many congressmen are deeply entrenched in outside money and irreversibly polarized on everything. This amounts to what Georgetown University Professor Mark Tushnet calls playing "constitutional hardwall" in trying to further goals. This occurs when both politicians use theatrical tactics that are technically legally permissible, but damning to productivity. This includes using the filibuster and results in gridlock.
The filibuster was used by Senate Democrats to slow the agenda of then President George W. Bush. When Barack Obama took office in 2009, Republicans started using this technique constantly. The number of cloture votes (those taken to try and end a filibuster) used to be less than 1 per month in the 1970's; it currently averages more than once per week. This means that the basic practice of governance is changed for the worse and will not get better without a collapse or other calamity.
Even routine measures are made much more difficult since it takes about 2 weeks per filibuster just to sort through the minutia of procedure. This uselessness makes us consider, do the sovereign states even need a Congress at this point?
What do you think?
Opposites Don't Attract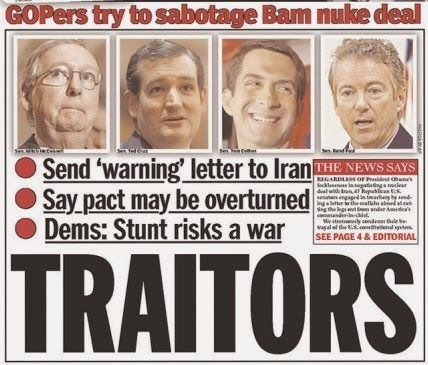 We have left the era of bi-partisanship. It will be a word lost in the legacy of the good old days. The new word is gridlock and drama. This week the New York Post claims that we have traitors in the Senate. 47 Senators penned a letter to Iran during sensitive negotiations in hopes of undermining the office of the Presidency and in breach of the Logan Act. The House leader, Mitch McConnell, invited the Israeli Prime Minister to indirectly campaign while he was in the midst of a tight race back home in Israel because the Republicans want Congress to dictate foreign policy (at least when a Democrat is in office), which is not allowed for in the Constitution.
The Koch brothers and big oil companies and have more of a voice than you do in policy decisions. "News" nowadays has turned into mind control. Fox News has demonized every Democrat in the United States while MSNBC does the same to Republicans. We are at war with ourselves.
Often, our editorial board did look for the good in the future; we embraced hope and concern, compassion and cooperation, but nowadays that is a tall order. If one looks on the horizon, will a Republican President or Democratic President bring us the change we need? We think not because big money owns the future of these parties. When was the last time you heard someone say that their vote doesn't really amount to anything? This is probably true, unless we as ministers, spiritual seekers, and just plain citizens stop the corporations and throw the bums out and start anew.
Polarized political parties are inevitable with our current system. It only feels new to us given the fact that we are coming off a time of unusual bi-partisanship after World War II. The gridlock we are seeing is a return to the natural state of our government, historically speaking. This is why George Washington warned us against handing over so much political power to the parties in our system.
Primaries are also a source of polarization in our government. If you think they work, look at who gets the most money and who gives it to them. It's the kingmakers (1%) vs. all of us (99%). Apparently free speech is money and that means a few of us have far more speech than the rest of us.
If you were in office, the best policies for reelection are those that your base expects you to enact and the best response from your opponents is to stop you at all costs, even to the point of absurdity. Take the current immigration debate as an example. The congressional Republicans were previously willing to enact reforms but the moment the Obama administration agreed with them, they acted as if it was suddenly poisonous, and politically speaking, it probably would be. Not because it is inherently a bad idea (after all, both sides had expressed a desire for immigration reform), but for no other reason than it now being part of the political game of chess where each move has to be calculated and reconciled with potential future moves. Appearing to compromise with Obama would cost individual Republicans come the next primary vote just as Obama's failure to deliver reforms could mean trouble for the Democratic National Party in the 2016 race which would explain his "constitutional hardball" in taking executive action.
It may not be anything new, but that doesn't excuse the lack of functioning of our government. We have real needs in the now and on the horizon that are being neglected in a high stakes game of politics. What will it take before we snap out this pettiness? What will fix us?