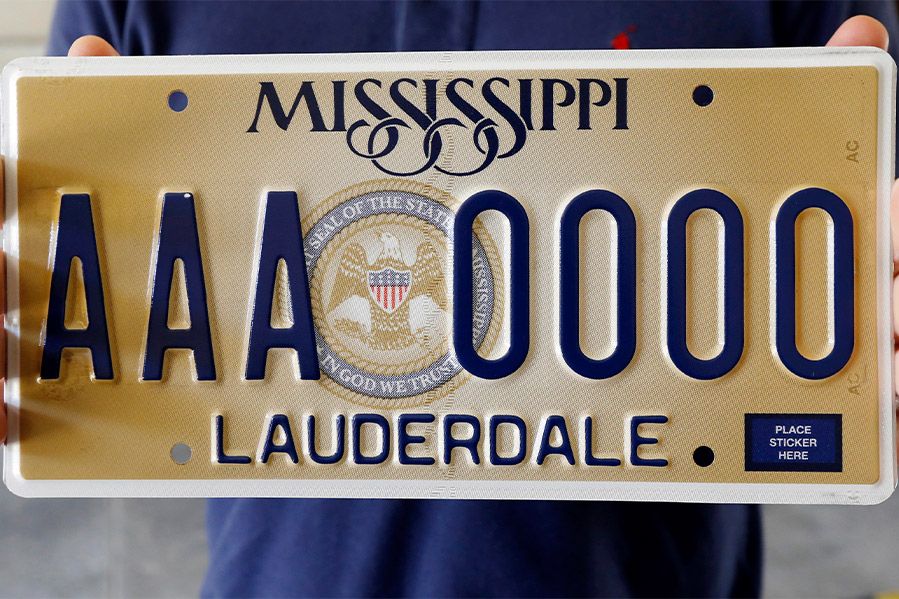 An atheist group is suing the state of Mississippi over its requirement that the words "In God We Trust" be included on all state license plates. 
The complaint, filed by American Atheists and the Mississippi Humanist Organization, takes aim at the words on the state seal, which is emblazoned on all standard license plates issued in the Magnolia State.
The lawsuit argues that "the phrase 'IN GOD WE TRUST' is rooted in hostility toward non-Christians and atheists, intended to convey the message that non-belief in the Christian god is un-American."
State leadership is now tasked with proving that these license plates are not inherently religious. 
A License Plate Debate
At the heart of the lawsuit is a "non-religious tax," for lack of a better term. Residents of Mississippi who object to the message _can _get a license plate without 'IN GOD WE TRUST' – but it costs an extra $30 a year. 
If atheists or other non-Christians want a license plate that doesn't potentially make them billboards for religious values they don't hold, they'll have to pay an extra fee to the state. They say that violates their freedom of speech as citizens. 
American Atheists say that they're not trying to change the state's motto, or the state seal. They just want a free alternative.
Moreover, some types of license plates have no alternative options – paid or otherwise. Drivers of RVs or motorcycles, drivers with disabilities, and all custom license plates must be printed with the standard seal, something the lawsuit also hopes to change.
For some of the activists, it's personal. "In 2019, when 'In God We Trust' became the new standard plate, I was forced to either give up my chosen message or display it alongside the Mississippi government's religious statement," says Sarah Worrel, a representative for American Atheists. "I shouldn't have to make that choice. The government shouldn't be able to decree that I display a message that goes against my beliefs."
'In God We Trust' or Bust
It's not hard to come up with a defense the state government could use. It would go something like: "the words are part of the official state seal and thus not an endorsement of faith. We have "In God We Trust" on our currency, and the courts have ruled that's not an issue."
However, Mississippi Governor Tate Reeves is going a different route:
In fact, Reeves campaigned on this very issue when he got elected.
"Guess what, in Mississippi we do trust God." then-candidate Reeves posted on Facebook in 2019. "And I trust God will help [American Atheists] realize just how foolish it is for this atheist group to try to force their political correctness nonsense on our great state.‬"
But opponents of the license plate (and the religious movement behind it) are not going down without a fight. 
"No matter how much Gov. Reeves or other politicians want to pretend that Mississippi is some kind of Christians-only club, it doesn't make it true," says Nick Fish, President of American Atheists. "Forcing atheist drivers to endorse a religious message they reject is antithetical to our values as Americans and unconstitutional, plain and simple."
Where do you stand on all of this?