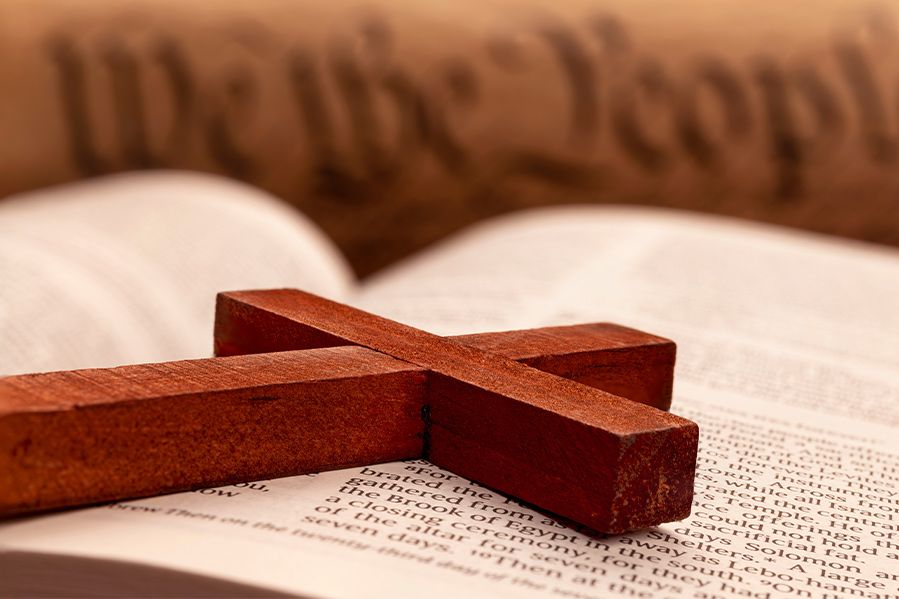 Do God and Government mix? El Dorado County in California says yes, and they've passed a proclamation to prove it.
El Dorado County just declared July "American Christian Heritage Month," prompting outrage from residents and secular activists who say the declaration is a blatant Constitutional violation. 
Can a county government seriously claim an entire month for Christian heritage?
July is for Jesus
In a vote of 4-1, the El Dorado County Board of Supervisors passed the controversial proclamation on July 18. 
"Be it proclaimed," the proclamation reads, "that the month of July each year is designated as 'American Christian Heritage Month,' to recognize the impact of religious beliefs on America's history."
The proclamation quotes everyone and everything from Presidents George Washington and John F. Kennedy to an inscription on the Liberty Bell in justification for declaring July for the Christians. 
"Religious faith was important in American life during the periods of discovery, exploration, colonization, and growth," it reads, "but has also been incorporated into all three branches of the American Federal Government from their very beginning."
"There have been attempts to change and distort our history," the proclamation says. "Be it further proclaimed that any effort to remove, obscure, or purposely omit such history from our nation's public buildings and educational resources be rejected in the strongest manner."
You can read the whole proclamation here: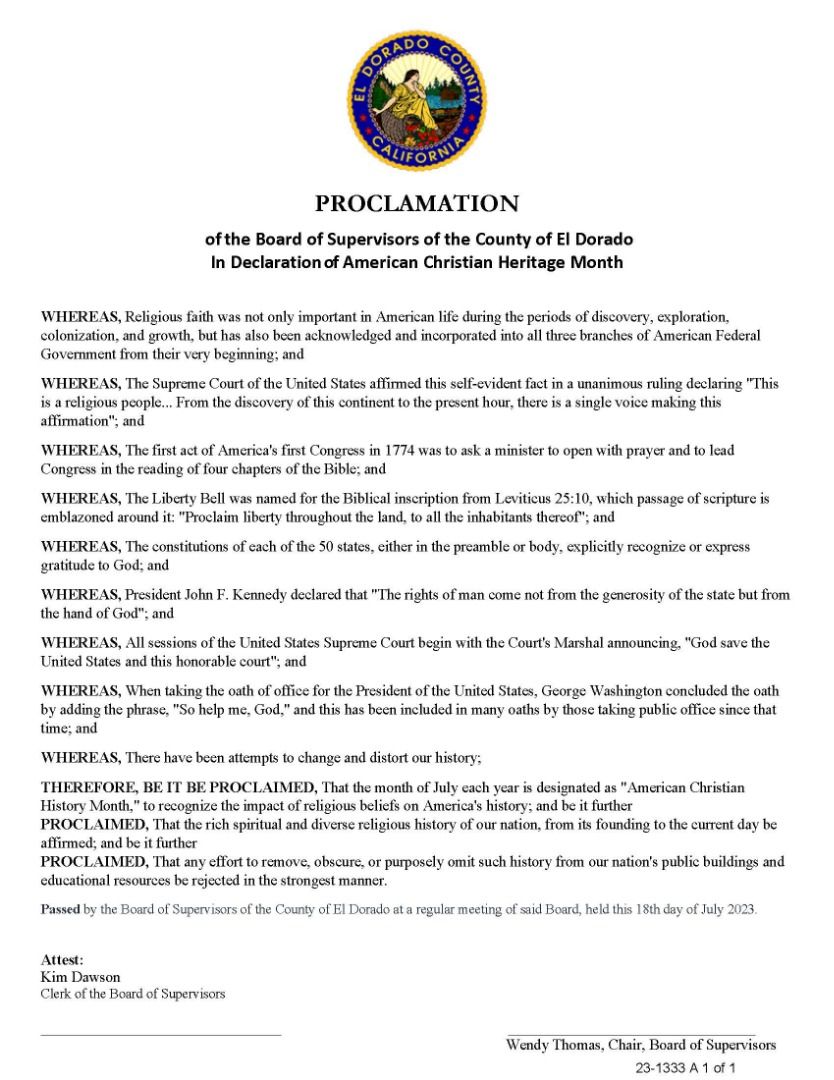 Not only have they retroactively proclaimed this last July as "American Christian Heritage Month," but also every July from here on out.
By quoting influential figures and moments from America's past, the proclamation clearly wants to reinforce a version of American history that is explicitly Christian. But secular activists have already not only challenged the proclamation's legality… but also challenged its factuality. 
Secular Activists Step In
It should come as no surprise that the Freedom From Religion Foundation (FFRM), one of the nation's most prominent religious watchdog groups, sent El Dorado County a strongly worded letter demanding they rescind the proclamation, demanding that July get demoted from a month celebrating America's Christian heritage back down to just a run-of-the-mill, regular summer month.
This proclamation is a clear breach of the Establishment Clause of the First Amendment of the United States Constitution," it reads.
"By issuing this proclamation advancing Christian nationalism and the debunked myth that we are a Christian nation, El Dorado County is ironically violating the country's true heritage of religious liberty based on secular government."
Interestingly, the FFRF also goes out of its way to try to bust some myths El Dorado County they say El Dorado County is promoting. They say that much of their religious history is anything but, arguing that President Washington adding "so help me, God" to the oath of office is lacking in evidence, and that President Kennedy's quote is taken out of context.
Ultimately, however, their grudge is that the proclamation is exclusionary. They say that some 31% of El Dorado County is made up of other faith groups, or those of no faith at all. To exclude those groups is simply "rude, ignorant, and unwelcoming."
What do you think? Is the county simply celebrating America's heritage, as they say, or was this a sinister attempt to promote Christianity above all other faiths?