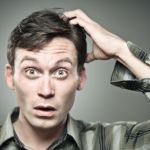 As human beings we have an urge to ask for reasons why certain things happen. Some people believe that there is a higher being which decides our fate, while others think that we live in a world determined by some amount of cosmic karma. While definitive answers evade us, science offers clues as to what actually determines how our lives pan out.
Libet's Study
In one of the most important studies in neuroscience, Benjamin Libet determined that our brain waves might have the answer to this question. His study had participants wear electrodes on their scalp to track their brain wave pattern while performing a simple exercise. He instructed test subjects to raise their left or right finger, while allowing the urge to move their finger come about on its own. In other words, they should not pre-determine or think about the act before moving their finger they should just do so at random. Once the physical act was completed, the scientists made note of exactly what time the finger was moved. On the neurological side of things, the electrodes attached to the participant's scalp constantly made note of the brain's activity. Perhaps the most important aspect of the experiment was that Libet had participants make note, using a provided stopwatch which can track down to the millisecond, exactly when they made the decision to move.
Implications
By analyzing these three vital parts the finger movement, the electrodes, and the decision making time Libet was able to uncover an astonishing fact. Participants' brain activity showed that their brain actually made the decision to move their finger more than four hundred milliseconds before they said noted on the clock that the decision was made, and more than six hundred milliseconds before they physically moved their finger.
What Does It Mean?
So what does this mean in terms of free will? Well, it depends how you interpret it. If our brains are able to determine our movements before we are even conscious of them, does that mean that our decisions are really our own? If the human brain can act independently of the body, what does it mean to exercise free will? When it comes to determining our free will and ability to own decisions, Libet's findings certainly complicate things. So what do you think? Can we call it having free will if, in a sense, our decisions are made before we are conscious of them?