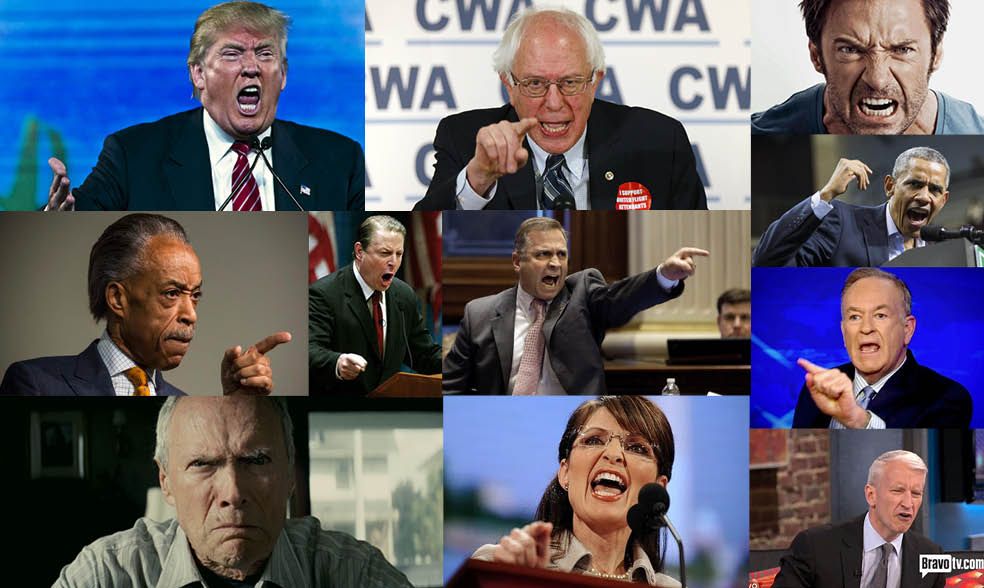 This sermon was written by an ordained minister of the Universal Life Church. All ULC Ministers are invited to contribute their own sermons for consideration/publication. To do this, please email sermons@themonastery.org.
We are lucky enough to live in a society which protects free speech. This is a wonderful freedom, but not one without consequences. The most obvious being that everyone has a voice even those who use it to provoke extreme emotions such as hatred and anger. While many of us are guilty of lashing out from time to time, it is usually in a controlled environment. On the other hand, politicians, members of the media, and celebrities have vast amounts of exposure when they act this way, everybody notices. This sermon will examine the nature of anger and its consequences in society.
Political Anger
Anger is an important tool used by politicians. In the political sphere, politicians utilize anger and hatred to rally supporters to their cause. This is not isolated to a single political party, either to some degree, both sides of the aisle are guilty of acting in this manner. They rile up their audiences by attacking "the other" blaming problems felt by the whole of society on certain groups within it. Using anger, they attempt to convince anyone who will listen that we'd be better off if only X group was dealt with. In the current campaign season there have been an abundance of of divisive statements made from all sides. For example:
Hillary Clinton has implied that anyone who doesn't support her is sexist.

Donald Trump argues that building a wall on our southern border to keep immigrants out will make America great again.

Bernie Sanders insists that if we throw all the Wall Street bankers in jail, the economy will finally be able to recover.
Many of us are quick to poke holes in such one-dimensional logic. However, the ideology of anger targets those most susceptible to it people who are frustrated with their current situation, fed up with their lot in life, or embittered by their own shortcomings. To them, blaming others is an easy solution.
Causes of Anger
It doesn't take much to set some people off. When we become angry our bodies release stress hormones, such as adrenaline and noradrenaline. Our brains then target the source of our anger, and we become focused on it. Our focus narrows to the point that we become obsessed, and soon we can see nothing else. It's no wonder that people act irrationally when they are angry.
Religious Attitudes
Some religions permit certain types of anger. For example, the Bible considers "righteous indignation" to be an acceptable form of anger. However, Ephesians 4:26 provides a reminder: "In your anger do not sin". The Bible holds that anger becomes sinful as soon as its focus gets shifted away from the larger problem and towards specific wrongdoers. Psalm 37:8 says: "refrain from anger, and forsake wrath! Fret not yourself; it tends only to evil.
In Buddhism, on the other hand, anger is universally opposed it is one of the "three poisons", which are considered to be the source of all evil. A common Buddhist saying goes: "holding on to anger is like grasping a hot coal with the intent of throwing it at someone else; you are the one who gets burned."
A Dividing Force
Those who propagate anger claim to have all the answers. They employ a unique brand of fiery language whose primary purpose is to inflame, not inform. When we are told that certain groups are the cause of our problems, our natural inclination is to direct anger towards them. But anger is a dangerous emotion, for it causes people to act in foolish ways. There is a reason for the saying "cooler heads prevail".
Anger as an ideology only threatens to divide us as a society. After all, we are so much stronger when we work together. What can we honestly accomplish by fighting amongst ourselves? Surely we can work towards a more virtuous goal than division. We have so much more in common than we have differences. To truly progress as a society, we must look past those things we disagree about and focus on working together to improve the collective good.
We are all children of the same universe, we may as well act like it.