We are so excited that you are reading this page right now, because if you are it seems as though there is a tremendous probability that you are either planning on getting married in Canada, or have been asked to serve as a wedding minister in Canada for friends or family. What an honor! We're sure you have plenty of questions about how to get ordained in Canada and how to subsequently perform a wedding ceremony, and would encourage you to review the answer to those questions and more that we have made available on this page.
1

How to Become an Ordained Minister in Canada

First things first - are you ordained yet? If not, and if online ordination in Canada is something you have been considering, we would encourage you to learn more about the Universal Life Church Ministries and apply for ordination with our nondenominational global organization. Whether you are wondering how to get ordained in Vancouver, or how to get ordained in Ontario, or in any other province, the process is the same. Online ordination with the ULCM is free of charge, the application is available to any who feel called toward ordination, and you can finish and submit the entire thing within minutes! There are countless ministers and members of the ULCM around the world, and we would love to welcome you into our community. Ministers of the ULCM perform acts of charity, general ministry, and perform thousands of ceremonies like weddings around the world each year. Thousands of legally valid marriages are performed by ULC ministers around the world every year. You can start the ordination application by clicking on the button just below.
2

How to Officiate a Marriage in Canada

After you've been successfully ordained online, assuming you have already been asked to perform a wedding in Canada and know the approximate date of the ceremony, you should contact the office that will be issuing the marriage license. Marriage is highly regulated around the world, and those laws can vary widely from one region to the next. During your conversation with that office, you should explain that you are a minister who was ordained online with the Universal Life Church's Canada Ministries who is planning to perform a wedding ceremony in Canada, and ask politely that they provide you with a list of documents they will require to establish that you are a valid religious minister (if any).
3

License to Marry in Canada

We should note that in some areas the laws are still a bit behind the advanced technological ideas powering the Universal Life Church Ministries, and there is some chance that our legal status in your area may not be as strong as it is in some others. Rest assured that we are working hard to achieve global recognition, and we do hope that you will be able to perform a legal wedding soon if you cannot currently.

However, if your ordination has been accepted by the marriage authority, you may well have a list of credentials and other documents that you are being asked to present. Rest assured that the minister supplies catalog on our site has everything you may require to meet any legal requirements, and just about any other ceremony or rite you hope to provide. Most online ordained ministers in Canada request to receive an Ordination Package via that catalog. We are happy to offer FedEx international shipping during the checkout process that will ensure that any supplies you order will make it to your address from our U.S. facility promptly and safely. That said, we would strongly recommend that any order you do want to place, you place as soon as possible - at least one month prior to the ceremony if you are able. There is more than enough for everyone to be worried about without worrying about whether or not a certain application has been accepted yet!
4

How to Perform a Wedding in Canada

And now that you've gotten all of the painful pieces of the job out of the way, you can pivot toward the couple and address all of your focus toward them. After all, it is their big day!

Even if you find that you aren't able to perform a legally binding wedding in your part of Canada yet, many Universal Life Church Canada ministers will supplement a legal wedding in a courthouse with a purely symbolic ceremony at a venue of the couple's choosing. Regardless of whether or not you will be signing the marriage license at the end of the ceremony, we're sure you still have plenty of question about how to do your part to make the occasion as special and memorable as possible as the designated wedding officiant. There are plenty of educational resources on our site that Canadian wedding ministers might find helpful, and we would especially encourage new wedding officiants to review our invaluable wedding guides. For those who are hoping to expand their ministry beyond performing weddings, we would also highly encourage you to browse the minister training section of our website to explore all of those exciting possibilities!
---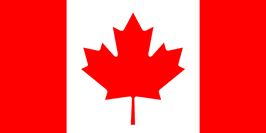 Marriage in Canada is governed individually by the government of each Province. The link provided below specifically describes the official process one must undergo to become married in Ontario, but the process will be quite similar in each of the other provinces. Again, the Universal Life Church is actively seeking recognition as a valid religious denomination in the country. Same-sex marriages in Canada are legally recognized and have been since 2005.
Types of marriage
An authorized official needs to marry you to ensure that a marriage is performed properly and legally. There are 2 types of marriage ceremonies performed in Ontario:

Religious marriage: a recognized religious official marries you.

religious marriage officiants
Civil marriage: a judge, justice of the peace or authorized municipal clerk marries you, often at a local municipal office or city hall.

View the Canada Statutes on the official state site

⇓ Show the rest