Created and reviewed for accuracy by researchers at the Universal Life Church Ministries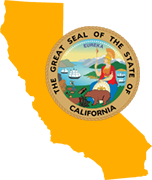 Have you agreed to officiate a wedding in California? Or perhaps you're planning to get married there and are curious how the process works? Either way, you've landed in the right spot. This guide will explain everything you'll need to know about holding a marriage ceremony in California, as well as how to legally officiate the wedding as a minister of the Universal Life Church. Let's get going!
Quick Facts
ULC Ordination Accepted: Yes

Minister Registration Required:

No

Minister's Residency:

Irrelevant

Minister's Minimum Age:

18

Marriage License Waiting Period:

0 Days

Marriage License Valid For:

90 Days

Marriage License Return Within:

10 Days
Regional Information
For more specific information about performing a wedding in certain parts of California, choose a location below. If your area isn't listed, don't worry - just continue scrolling to review the helpful general information on this page.
1

How to Get Ordained in California

Becoming an ordained minister via the Universal Life Church is the first step in the officiating process. Just fill out the ordination form on our website (the process is free) and submit your application to become a minister. Once processed, you'll officially be recognized as a member of the ULC! Just click the ordination button below to begin.
2

Officiating Weddings in California

After getting ordained, your next task is to reach out to the government office where the couple will be applying for their marriage license (most commonly a county clerk's office). Explain that you're ordained through the Universal Life Church and ask them what the requirements are in that area to officiate a wedding ceremony. Marriage officials sometimes ask that you present documentation before they will give the green light to proceed.

Choose the county you'd like to contact from the dropdown menu below to see their office's information.
3

California Officiant Requirements

After contacting marriage officials to confirm what is required, visit the catalog here on our site to order the necessary documents or materials. We usually encourage our members in California to get a California Wedding Package to ensure they have everything they'll need to preside over a successful ceremony.

Although minister registration isn't a common requirement in California, you should always be prepared to show proof of ordination, should a county clerk ask to see it. Having physical ordination documents on hand can also help the wedding couple relax (let's be honest, they have enough to stress about – the last thing a minister wants to do is add to that).

When ordering these supplies, please do so well in advance of the wedding (3 weeks prior is a good rule of thumb) to make sure everything gets there on time.

There are more ministers who got ordained online with the Universal Life Church operating in California than in any other state! Every month our office is inundated with lovely photos and videos of weddings that took place in the scenic state.

Please note that certain California county clerks may ask that officiants write up a statement attesting to certain key details, such as:
Location and time the ceremony took place

Names and addresses and of the witnesses

The officiant's religious organization

Name and address of the wedding officiant
When completing the marriage license, the state instructs ULC ministers to use a religious title such as "Reverend" or "Minister", and not "Officiant", in Box #29D.
The form may also require that you list a denomination, in box #29B. For this section, please list "Non-denominational." If you forget to do this, the marriage license could get rejected.
4

How to Perform a Marriage in California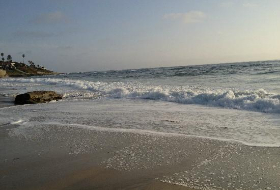 California's Top Wedding Spot
San Diego strands like La Jolla's Windansea Beach
With all that covered, you're almost ready to officiate the ceremony! A few quick pointers on marriage licenses:
Be sure the couple receives a California marriage license in advance of the ceremony.

The license will be valid for 90 days, and California does not require any waiting period (meaning the ceremony can take place immediately upon issuance.)

Don't forget that the completed license has to be returned within 10 days following the date of the wedding.
Once you've touched base with the couple about these legal aspects, then it's time to focus on the ceremony itself! Officiating a marriage ceremony is no small task, but the Universal Life Church has spent years developing resources to support its ministers in performing this important service. Don't hesitate to visit our Wedding Training Center for tips, tools, and advice covering every aspect of the officiating process. More experienced officiants – or those looking to go even deeper in their preparations – may be interested in the wedding books offered in our online catalog, such as this popular wedding guide.
5

California Wedding Planning Tips

If you are being asked to officiate a wedding in California, there are a few things that you will want to keep in mind during your planning. It is the most ecologically diverse state, and California wedding venues can vary from northern alpine regions, to giant redwood forests, to beaches, and even to deserts. This means you should make sure to plan ahead for clothing and footwear choices that are appropriate for the location. Outdoor weddings venues in Southern California are ever-popular, but you will certainly need to plan ahead for the traffic. Los Angeles is world famous for the gridlock on its highways, so you should plan to leave plenty of time for travel to the big event.

Fees for wedding officiants in California are dependent on a number of factors. Consider, for example, how much professional experience the officiant has, whether they'll be required to travel to the ceremony destination, and how much preparation is required. The cost of living is greater in California than most places, and services like those provided by wedding officiants are not exempt -- don't be surprised to see higher price tags than you might in other states.
---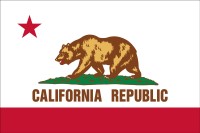 Marriage in California is governed by California's Family Code. Ministers who got ordained online with the Universal Life Church have successfully solemnized thousands of weddings in the state. Below, you will find that we have reproduced a relevant excerpt of this code.
§ 400. Marriage may be solemnized by any of the following who is of the age of 18 years or older: § 420. (a) No particular form for the ceremony of marriage is required for solemnization of the marriage, but the parties shall declare, in the physical presence of the person solemnizing the marriage and necessary witnesses, that they take each other as spouses. § 422. (c) The official position of the person solemnizing the marriage, or of the denomination of which that person is a priest, minister, rabbi, or other authorized person of any religious denomination. View the California Statutes on the official state site.

⇓ Show the rest