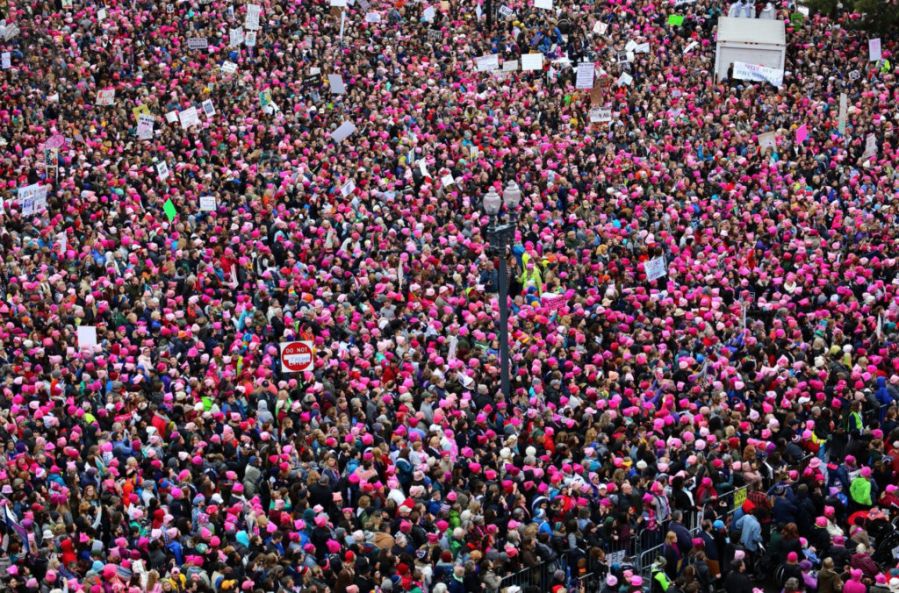 ---
Women's March
On January 21st, the day after the 45th president of the United States was sworn into office, an estimated 1 million people participated in the Women's March in Washington D.C. They were joined by several million more in cities across the United States and around the world. In total, over 670 marches took place. From Seattle to New York City, and from London to Tokyo, women (and men) took to the streets to make their voices heard.
Protesters wore knitted pink "pussy hats" and carried all manner of signs and banners some heartfelt, others humorous. The issues at hand were wide ranging: women's reproductive rights, gender and racial inequality, immigration reform, LGBT rights, and religious discrimination were all prominently featured. While not every participant felt the same way about every issue, the marchers were unified by an overarching goal: to express their dissatisfaction and make it impossible to ignore.
March for Life
Capping off a busy week in the nation's capital, an annual pro-life rally, the March for Life, was held today. This morning, thousands of anti-abortion advocates rallied on the steps of the Supreme Court to show support for pro-life policies, such as defunding Planned Parenthood and restricting access to abortion. In stark contrast to the Women's March just days earlier, many March for Life attendees explained that their protest was more religious than political in nature.
Of the women attending, Lynn Ray, explained her thinking: "I'm all about women's rights, except when it comes to the baby. I believe it's my opinion but I believe a baby is a gift from God, and once the baby is a gift from God, it's no longer your body, but there's another body within. And that body has a right also."
Mixed Reactions
On both sides of these issues, protesters came out in droves to exercise their constitutional rights. Although in some ways the most recent election highlighted America's divisions, it also seems to have heightened political awareness and spurred millions of people to action.
However, as one might expect, public reaction to these protests varied greatly. There will always be critics of protest movements and this week's events were no exception. There were plenty of people who derided the Women's March as a meaningless political stunt all talk and no action. On the other hand, critics accused the March for Life of trying to set women's reproductive rights back fifty years.
---
Rich History of Protest
Throughout American history, groundswell movements have played an important role in effecting change. They put tremendous pressure on those in charge to either change their ways or get out of the way. The most powerful movements rise organically, often in reaction to leaders, policies, or events deemed to be at odds with the will of the people. It was exactly this type of movement that spurred the creation of the United States; the colonists were tired of being ruled by a foreign monarch, and decided to band together and declare independence.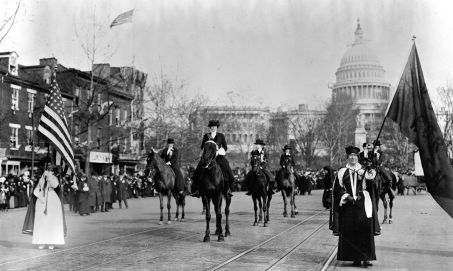 Women's Suffrage
The women's suffrage movement utilized many strategies to draw attention to their cause, but none were quite as effective as organized marches. On March 3, 1913, roughly 8,000 women attended the first suffragist parade in Washington D.C. While the event began peacefully, some were unhappy to see women marching openly in the streets groups of angry men converged on the parade and hundreds of women were injured in the fray. Despite this reprehensible violence, the march continued and was judged to be a hard-fought victory. In fact, the open hostility may have actually accelerated progress for women's suffrage as news reports of the violence won many more people to the protesters' cause.
Civil Rights
The nonviolent tactics employed by the Civil Rights Movement provided striking evidence of injustice occurring on American soil. Borrowing from a strategy pioneered by Mahatma Gandhi in the struggle for Indian independence, Martin Luther King Jr. directed protesters to remain peaceful even if faced with violence. By refusing to fight back, African-Americans created powerful imagery which ultimately swung U.S. public opinion in support of civil rights reform.
Takeaways
Protest has always been an important instrument for change. Progress throughout American history has depended on it. For those in charge, there is nothing quite so visually powerful as a crowd of people standing on your front lawn demanding things be done differently. We'd like to hear your thoughts on the recent marches (both the Women's March and the March for Life) do you agree with their causes? Did you attend?