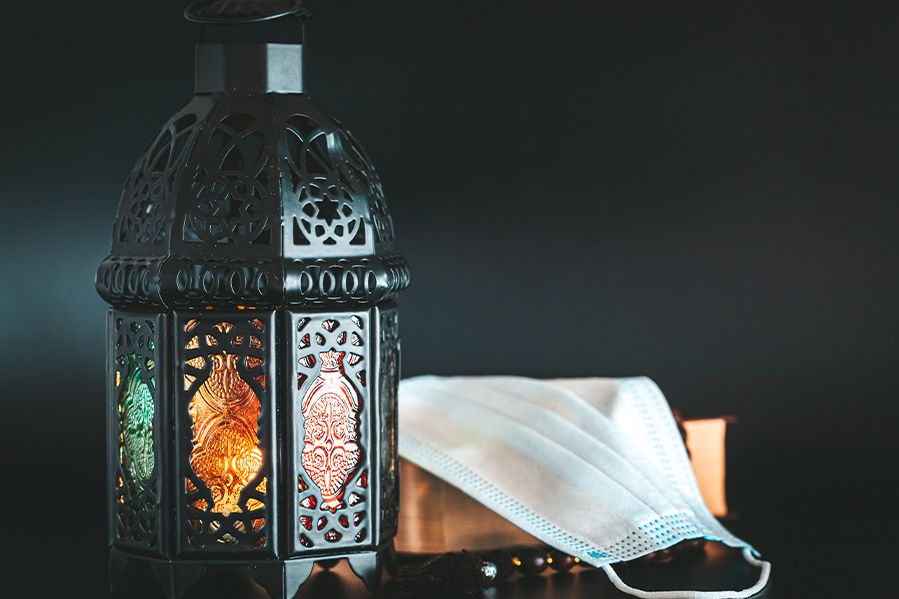 For millions of Muslims around the world, today marks the beginning of a very spiritual month of reflection, fasting, prayer, and brotherhood.
For many non-Muslims, Ramadan may seem mysterious - one may be tempted to immediately compare it to festive Christian holidays like Christmas or Easter. But unlike those very merry holidays, Ramadan is a time of solemn contemplation and self-restraint, meant to detoxify one both physically and spiritually.
This year, Ramadan began on April 13th, marking the second Ramadan during COVID (and hopefully the last). Beyond the basics, why do Muslims celebrate Ramadan, and why does it's date change every year? And how has the COVID-19 pandemic changed Islam's holiest month?
What is Ramadan?
Ramadan's roots lay in how the prophet Muhammad received revelations from the Islamic deity, Allah. Islamic tradition holds that all scripture, including the holy book the Quran, was revealed to the prophet Muhammad during Ramadan, the ninth month of the Islamic calendar. Because the Islamic calendar is based on the lunar cycle, the date of Ramadan changes each year. As the new moon marks the beginning of each new month, Muslims traditionally mark the beginning of Ramadan with visual observation of the Hilal - the crescent moon.
Thus kicks off 29 or 30 days of fasting, prayer, and charity. During Ramadan, Muslims fast from sunup to sundown. And it's not just food and drink they abstain from: sexual relations and improper speech are also included in that, as the fasting is intended to cleanse the soul as well as the body which helps bring followers closer to God. Traditionally, families partake in a pre-dawn meal called Suhoor and an evening meal following dusk called Iftar. The first nibble of food or sip of water during Iftar is often the most anticipated moment of the day, for obvious reasons.
Fasting is also intended to call attention to food-insecure people and the plight of the needy. Indeed, almsgiving is a crucial part of Ramadan as well. Followers of Islam are expected to make an obligatory donation called Zakat as well as a voluntary donation called Sadaqa during the holy month. Together, fasting and almsgiving constitute two of the five pillars of Islam. 
During Ramadan, you may hear or see some common greetings, like Ramadan Mubarak or Ramadan Kareem. These are comparable to 'Merry Christmas', and mean 'have a blessed Ramadan' and 'have a generous Ramadan' respectively. If you hear those sayings, feel free to return them!
There are also some rules some Middle Eastern bloggers have proposed as simple 'do's' and 'don'ts' during Ramadan, for Muslims and non-Muslims alike. They suggest keeping your loud music to yourself during the month, as it may be offensive to those celebrating Ramadan. They also say to avoid anything that will make fasting Muslims think of food during the day - that can mean foregoing everything from chewing gum during the day to posting mouth-watering pictures of food to your Instagram (sorry, foodies). They also suggest showing a little patience to any coworkers you have who may be observing. Given that they're fasting throughout the day, they may be feeling a bit more tired and sluggish than usual, so please... try and be understanding.
How Has Ramadan Changed During COVID?
Last year's Ramadan kicked off in tandem with the COVID-19 pandemic's initial round of lockdowns - including mosques. That meant that for millions of Muslims worldwide, Ramadan hallmarks like communal prayers and meals had to be performed at home.
As the world slowly but surely comes out of the pandemic as vaccine rollouts progress, restrictions are easing up a little. Mosques are reopening the world over, and Muslim clerics and several Muslim-majority nations have said it's okay to receive the COVID vaccin, and it does not count as breaking the fast. Many mosques are even being used as vaccination sites in local communities.
The restrictions are frustrating for many, as Ramadan is in large part a celebration of community. But many understand that the temporary restrictions are all in the name of the greater good, and keeping family and friends safe. "The month is about community and people coming together so it is going to be difficult," a university student named Ansa told BBC News. "But as Muslims we need to understand that we are still doing a good thing and we need to keep that in our heads."