"We are all children of the same universe."
Equal marriage rights in the eyes of state and federal law are not granted to a significant portion of America's population. This denial of rights is no less than discrimination against a minority group. Gay discrimination is unabashedly promoted by social organizations, public figures, and even religious groups. The venerable Catholic Church has repeatedly demonstrated that it can be this kind of religious organization. It has repeatedly been one of marriage equality's staunchest opponents by actively campaigning against it and labeling it "immoral" and an "ominous threat" to American society.
The Universal Life Church Monastery is a religious organization that does not tolerate this kind of discrimination. It stands firm behind its closely-held belief that anyone and everyone should have the right to do anything they choose as long as it does not infringe on the rights of others. This stance manifests itself in the ULC Monastery's life-long push toward complete marriage equality: loving same-sex couples must have the same matrimonial privileges as their opposite sex counterparts. The right to "civil unions" is not enough.
The Universal Life Church Monastery refuses to take a passive approach with the institutionalized discrimination of gay Americans, nor is it content to make hollow claims about its support of marriage equality. The following are two ways in which the ULC Monastery is "putting its money where its mouth is" by helping America's gay community.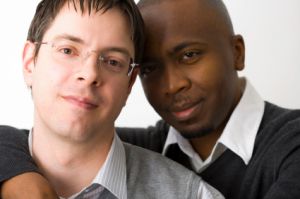 On June 17, 2009 a letter drafted by the ULC Monastery's Presiding Chaplain G. Martin Freeman was sent to President Barack Obama. The letter shared Freeman's frank opinion with President Obama that the topic of gay marriage is one of the most important issues of his presidency and encouraged him to continue supporting gays regardless of the stiff opposition facing him. President Obama responded to the ULC Monastery with a letter which affirmed that "every American deserves equal protection under [America's] laws, and neither Federal nor state law should discriminate against any American". He assured Freeman that his administration is "committed to addressing a full spectrum of issues relating to the LGBT community" and thanked him for his interest in gay rights.
As a non-profit organization, the Universal Life Church Monastery has donated considerable sums of money to charitable causes like the Lambert House since it was founded in 2006. The most recent donation made by the ULC Monastery in support of gays came in the form of a sizable contribution to the effort to raise the Pride flag from Seattle's Space Needle. Money from this donation will be distributed to the GSBA Scholarship Fund, Mary's Place, It Gets Better, and Lambda Legal. It is the ULC Monastery's hope that with its donation these organizations will increase the quality of life for marginalized gay youth and, in turn, bring up the gay community as a whole.
Gay men and women of America: the Universal Life Church Monastery will fight - hard - to gain complete marriage equality for you. It has advocated on your behalf to the highest levels of the US government and has donated large sums of money for gay causes. The decision by the New York State Senate to legalize gay marriage gives the ULC Monastery a clear and defined objective: legalized gay marriage in all 50 states. The ULC Monastery vows to continue its efforts on your behalf until this admittedly lofty goal has been achieved.