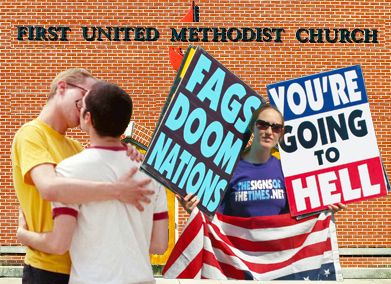 The United Methodist Church is currently facing some difficult questions on the issue of homosexuality. While most Protestant denominations have become more accepting in recent years, the Methodist Church continues to condemn homosexuality, claiming it is "incompatible with Christian teaching". As the policy stands right now, gay ministers can actually be prosecuted by church trial and removed from their positions. This high-profile issue provided the backdrop for the 2016 Methodist Global Conference, which occurred earlier this month. Held every four years, the conference brings representatives from across the country and around the world together to discuss potential changes to church policy. Notably, this was the first conference held since the U.S. Supreme Court legalized same-sex marriage in 2015. The huge strides made in gay rights over the past few years drew heightened attention to the conference, and everyone wondered whether the church's leadership would decide to change its controversial stance.
Clergy Members Come Out
In a surprise announcement the day before the conference, over 100 ministers and local leaders within the Methodist Church came out as gay, lesbian, or bisexual. Together, they signed a public letter denouncing the church's rules which force them to hide their sexual orientations and gender identities in order to avoid punishment. The clergy members wrote:
"While some of us have been lucky to serve in places where we could serve honestly and openly, there are others in places far more hostile, who continue to serve faithfully even at tremendous cost to themselves, their families, and yes, even the communities they serve, who do not receive the fullness of their pastor's gifts because a core part must remain hidden."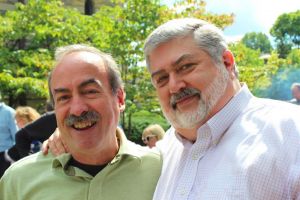 Methodist pastor David Meredith took his protest even further in blatant violation of church policy, he decided to marry his boyfriend of 28 years. While these protests received significant attention, its tough to see the minds of church leadership being so easily swayed many of them remain convinced that homosexuality is a sin. However, the biggest factor involved in the decision may be the actual demographic makeup of the Methodist Church's membership. While the U.S. has become much more progressive on the issue of gay rights, almost half of all Methodists are from other countries many of which have negative views toward gay people
Progress at Home
The U.S. has come a long way on gay rights in the past thirty years it wasn't long ago that homosexuality was widely viewed as a "disorder" that needed to be "cured". Although there are still those who believe this, attitudes seem to be changing. As a recent example, when former Republican presidential candidate John Kasich was in San Francisco on the campaign trail, he was asked if he believed people are born gay. His response was "you know, probably". While not a definitive statement, Kasich's comments are indicative of evolving sentiments in the U.S. especially apparent in politics. It's worth noting that as of 2016, all 50 U.S. states have at one point or another been served by openly LGBT politicians. However, progress on equal rights has been much slower in other countries.
Resistance from Abroad
In Africa, Methodist membership is over 5 million and counting. While American Methodists are diverse enough to include both George W. Bush and Hillary Clinton as members, those in Africa tend to unite around socially conservative views. Being gay is much more taboo than in the U.S, and homophobia is rampant some African countries even treat it as a serious crime. Convincing the African delegations at the conference to compromise on their deeply-held views will likely be impossible.
A Coming Split?
Ultimately, the United Methodist Church is facing an identity crisis. There are plenty of liberal Methodists who have been trying for years to change the church's policies toward gay people. At the same time, a large portion of its membership would sooner split from the church entirely than see its doors opened to gay people. There may be no right answer, no perfect solution. With LGBT members now in open defiance, the pressure is on. Either the church will continue to swim against the current and stand by its anti-gay policies, or it will change its stance and become more inclusive. Either way, the church is at risk of breaking up into different factions. What do you think? Should the Methodist Church change its policies toward gay people? Imagine you were asked to speak at the conference what would your message to church leaders be?
*Update 5/31/16*
Issues surrounding gay membership played a major role at the 2016 Methodist Global Conference. In the end, church leaders were unable to come to an agreement one way or the other. However, pressures to act were obviously quite strong. Amid serious concerns over a potential split, church leaders did come to a compromise of sorts they agreed to appoint a commission to study the issue intensively. Realistically, they're only postponing the inevitable.