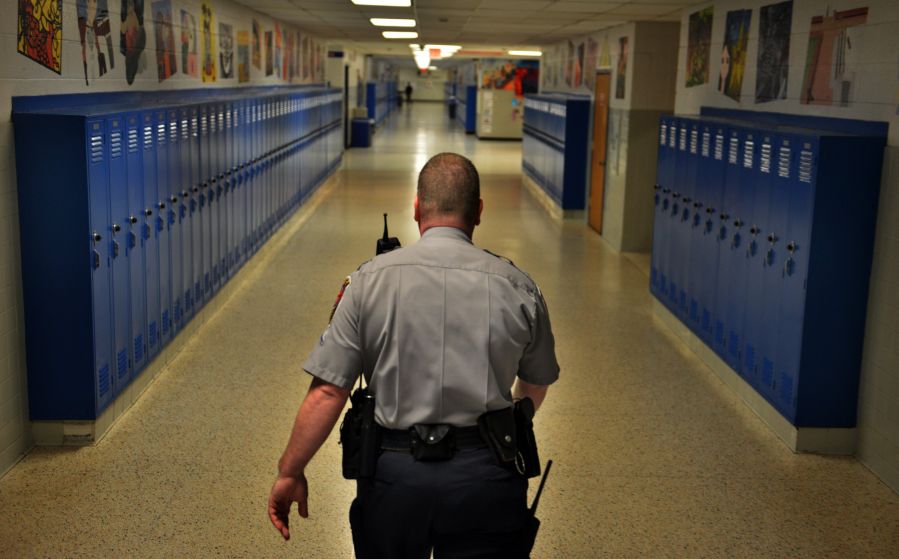 ---
---
---
In a quiet Kansas City suburb, the local school district is preparing for disaster. With fear swirling in the U.S. surrounding mass shootings especially those targeting young people in schools officials decided to take preemptive action.
In an effort to ward off any future mass-shooting threats, the Shawnee Mission School District ponied up funds and purchased a small arsenal of semi-automatic rifles to be used by campus police officers.
When word of the purchase got out, it spurred a range of reactions from the community on both sides of the issue. Some parents were unnerved by the news and have begun speaking out against the presence of such weapons on a school campus. Others are claiming that the purchase was not only prudent, but necessary.
"Better Safe Than Sorry"
Among the voices of support is that of John Douglass, the district's director of safety and security. Douglass sought to assure parents that the assault rifles won't be for everyday use: "This weapon is a very serious weapon for some very limited circumstances. You are never going to see it unless something really, really bad is happening."
Supporters also point out that assault weapons are particularly useful in certain situations, such as returning fire at long range. Many school hallways extend longer than 25 yards, the distance that even the most trained handgun users expect a sharp decline in their accuracy. Without the right tools to combat a heavily armed shooter, they argue, school police would be at a dangerous disadvantage.
Some of the most high-profile mass shootings, such as the Sandy Hook massacre, have involved assault weapons. However, many others have not. The shooter who killed 32 people at Virginia Tech University used only handguns.
But the comfort of having the extra firepower available is enough to help one Shawnee Mission parent sleep at night: "I would hope that in the event a real threat arose the person(s) deemed with keeping my children safe would have the tools and training to be able to do their job."
"Gun Culture Run Amok"

But the move to purchase semi-automatic weapons has also been heavily criticized.
"I don't fully believe one person with a bigger, badder gun is really going to make a huge difference in an active shooter situation in a school," noted parent Lisa Veglahn. "Why did they feel it was necessary over other types of weapons?"
Other parents thought the price tag ($5,671.04) was excessive, and argue that the money would have been better spent on raising teacher salaries or buying badly-needed classroom materials.
"It's pretty offensive to me as a taxpayer to feel like you don't have any voice and you are being excluded from decisions that could harm your child or kill them," said Melissa Patt, a mother of three Shawnee students. "As a nation, we should be asking why is it that our answer (to gun violence) is to go get more guns in the school," she said.
Will More Guns Solve the Problem?
That's the real question, right? Gun advocates point to cases where a "good guy with a gun" was able to stop a "bad guy with a gun." Just yesterday, the shooter at a baseball diamond in Alexandria was taken down by an armed security detail before he could kill anyone a story which will no doubt fuel their argument.
However, there are also instances where the opposite is true, where more guns only make a situation chaotic and result in increased bloodshed.
Perhaps just as important, though, is the issue of firearms in schools. While assault rifles could help prevent a mass shooting from occurring, their presence may also have unforeseen consequences. The new policy risks creating a culture of fear and reliance on heavy guns for safety, which would be antithetical to learning.
Where do you stand? Was the school district right to take "high-powered" precautions?