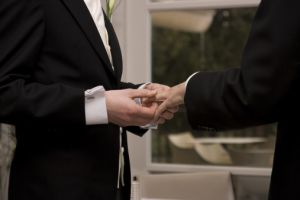 Take away barriers to gender and religion in marriage, and what is left? Apparently, love. That is what it boiled down to for a retired Catholic priest and his Jewish partner, who finally got married in the U.S. state of New Jersey after twenty years together. The couple's thoroughly modern wedding ceremony encapsulates the many changes taking place within the institution of marriage changes which the Universal Life Church Monastery has long embraced.
Modern Wedding Bells in New Jersey
The Rev. Tom Pivinski and Malcolm Navias's wedding came just days after the New Jersey Supreme Court rejected the state's request to impose a temporary ban on same-sex marriages. When the state started issuing licenses to same-sex couples on Monday, the couple jumped at the opportunity to officially declare their love. In fact, Pivinski, a legally ordained wedding officiant, had already performed wedding ceremonies for several other excited same-sex couples in the wee hours of Monday morning before participating in his own ceremony.
It isn't just the fact that Pivinski and Navias are a same-sex couple which makes their marriage different it is also the fact that they are an interfaith couple. Later that evening, Pivinski and Navias joined hands in a Jewish wedding officiated by Rabbi Kraus, donning the traditional Tallis (prayer shawl) and smashing a glass to the words "Mazel tov!" As Pivinski eloquently and succinctly put it, "[o]ur shuttered lives were set free by the shattered wedding glass whose pieces can never be reassembled". To symbolize their devotion, the couple exchanged the rings they had been wearing for twenty years.
An Inspiration to ULC Ministers
There are many important lessons we as Universal Life Church ministers can take away from people like Pivinski and Navias to incorporate into our own ministries. One of the most important of these is that marriage consists not only of one man and one woman of the same faith tradition; it is a many-faceted and heterogeneous institution. Like a Venn diagram, it encompasses various relationships and intersecting traits. Some couples are interracial, some are interreligious, and some are same-sex. Some are a combination of these.
As ULC ministers, we subscribe to the motto, "Do that which is right". The essence of this is love. Hopefully, demonstrating and celebrating love will remain our greatest priority.