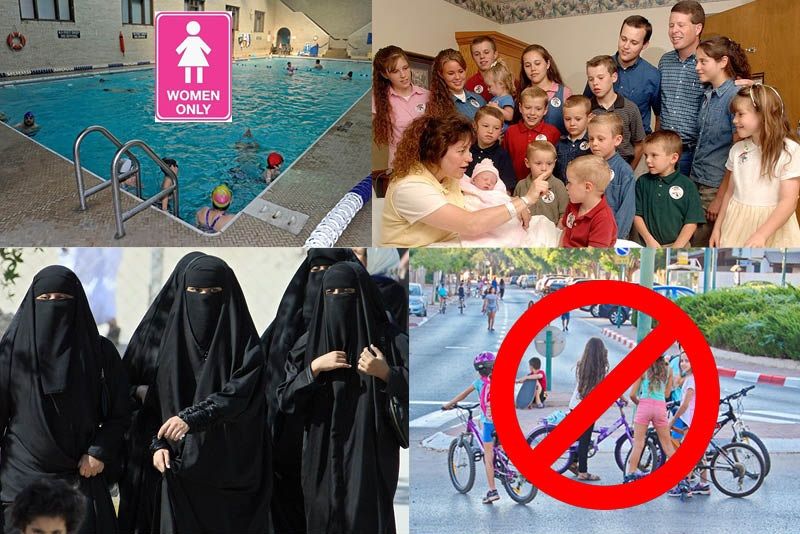 ---
Anyone who argues that men and women are fully equal must not study religion very closely. While most contemporary religious views support equality of the sexes, there still exist plenty of traditional religious sects and organizations which teach otherwise. In some cases, this unequal treatment is justified with statements such as "women need to be protected for their own good". In others, they are sheltered in a supposed effort to preserve the "moral integrity" of society. No matter the justification, these perverse attitudes and policies are hardly distinguishable from outright oppression. We'll cover a few different examples, varying in nature and extremity, but all of which illustrate the troublesome relationship between women and religion.
Burkas
Perhaps the most recognized symbol of religious oppression is the Islamic women's head covering known as the burka. Billed as a sign of modesty and an expression of the Islamic religious faith, the burka (along with other variations, such as the hijab, abaya, and niqab) are representative of fundamental Islam's antiquated beliefs regarding women and women's rights. While some women don them willingly, these coverings symbolize women's subservience to men in many Islamic societies. Levels of enforcement vary from region to region in Islamic countries, but the reasoning is always the same: women must cover their bodies so that men are not tempted by them. Born from this same twisted ideology are the disturbing stories of women in Islamic countries being raped and then sent to prison for "having sex out of wedlock". Such attitudes underscore a misogynistic idea inherent in many fundamental religious interpretations that men cannot be expected to control their desires, and so women must dress accordingly. If they don't, then they only have themselves to blame if something happens.
NYC Pool
To offer a less extreme example, you may have heard about the recent controversy surrounding a public pool in New York City which offers women's only hours. Among those who took advantage of these sessions were Orthodox Jewish women, whose religion doesn't allow them to wear swimsuits in the presence of men. Some people say that the pool should be allowed to continue women's only hours, because otherwise the Jewish women wouldn't be permitted to swim at all. Others say that this policy discriminates against men and thus should be abolished. Either way, one thing is clear: if Orthodox Judaism wasn't so restrictive about women showing their bodies, this wouldn't be an issue.
Quiverfull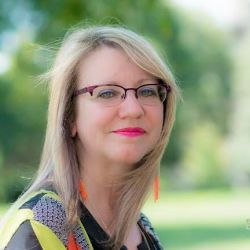 Then there is the so-called "Quiverfull" movement. This Christian fundamentalist ideology is maybe best described as "radically pro-life". The movement has gained significant notoriety recently thanks to the Duggar family, Quiverfull adherents who starred in the TLC show 19 Kids and Counting. The group's name originates from Psalm 127, which compares children to "arrows" and says, "Blessed is the man whose quiver is full of them." While it sounds harmless enough, the values espoused by Quiverfull adherents are highly patriarchal and misogynistic.
Vyckie Garrison, a former follower of the movement who now speaks out against it, provides some concerning insight. According to Garrison, not only do Quiverfull followers entirely oppose birth control, but the wife is "obligated to provide sex to her husband on demand". The natural result is a woman who is constantly pregnant, with a family that grows incessantly. Under this ultra-traditional religious interpretation, the woman's sole purpose is to please her husband, give birth to children, and raise them.
Israeli Rabbi
Finally, you may have heard about the ultra-Orthodox rabbi in Israel who decided to ban girls over the age of five from riding bicycles. His reasoning? That such behavior is "provocative" to men. The rabbi insists the ban simply seeks to "protect the modesty" of young girls. This line of thinking is inherently flawed, however. If men are so barbaric that they cannot control themselves upon the sight of a woman acting a certain way in public, then clearly they are the problem. In this sense, women do not need protection from immodesty what they need is protection from licentious men. But instead, we again see the underlying theme that women's behavior should be regulated in order to cater to men.
A Reversible Trend?
While it bears repeating that these cases represent minority groups within the larger faith, it's unsettling that there seems to be a pattern of oppression across gender lines within numerous religions. Women are expected to cover themselves in public, behave in certain ways, or take on a limited societal role in order to please the patriarchal religious leadership. Extremists are quick to write off their treatment of women as a necessary function of society. This absurd rationale begs the question: why must the onus be on women to accommodate the shortcomings of men? It's clearly a breach of equality, and one has to wonder how sustainable this ideology will be going forward.
What do you think? Is it possible for these religious groups to change? Will women ever receive equal treatment?