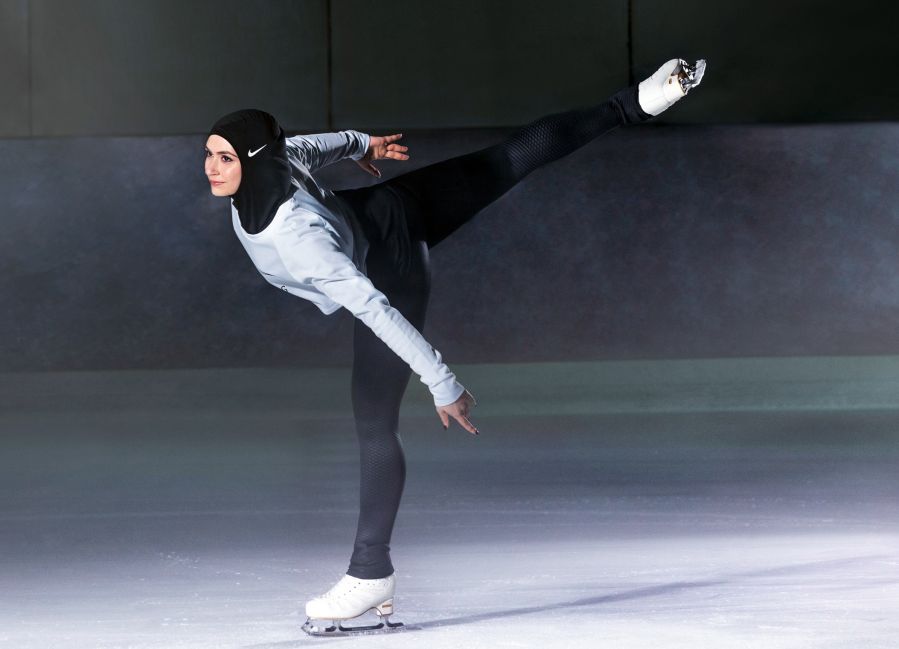 ---
Nike has announced their latest product line: the Nike Pro Hijab, a female athletic head covering for Muslim athletes. Loosely defined as a headscarf or veil that covers a Muslim woman's head, the hijab is a key symbol of modesty in Islamic culture and expresses an adherence to Islam. While the "Pro Hijab" has yet to hit the market, it is (unsurprisingly) already stirring up controversy.
Strong Supporters
The new product has been tested and developed with the help of two prominent Muslim athletes: professional figure skater Zahra Lari, and Olympic weight lifter Amna Al Haddad. Amidst the criticism, defenders of the sport hijab have been quick to emphasize the current need for such a product. They say that a performance head covering will encourage more Muslim women to participate in athletic activities and feel comfortable while doing so.
Amna Al Haddad supports Nike's decision, explaining that it will enable a whole demographic of Muslim women whose traditional religious garb makes playing sports difficult.
Scathing Criticism
However, others do not share this enthusiasm. For them, the hijab is less an expression of religious freedom that it is a symbol of female oppression in Islamic society. Although not all Muslim countries mandate that women cover their heads, it is expected in many places.
Shortly after Nike made the announcement, scores of critics took to Twitter to voice their outrage. One angry user even accused Nike of "capitalizing off Islamic patriarchy by putting their brand on a chastity helmet." Another vowed to boycott the company entirely:



#Nike cashing in on the subjugation, domination, and oppression of women.


I will never buy another Nike product again. pic.twitter.com/xOI7MmmpqA

#Sandy (@GSDDogLover) March 7, 2017
Religious Freedom or Religious Oppression?
On its face, the idea of the hijab being the source of oppression for an entire group of people sounds somewhat preposterous. After all, most women say that they want to wear it. For them, it represents an important tenet of their faith. But that's not to say that Islamic countries share the same attitudes toward gender equality as exist in the West.
For example, there remain very strict expectations for Muslim women to resign to the role of a homemaker. Strong cultural mores frown on women who pursue their own careers or have lives outside of their families. In Saudi Arabia, the situation is even worse. Due to adherence to Sharia law, women cannot vote, drive a car, or even leave the house unless accompanied by a man.
Perhaps the hijab in itself is not oppressive to women, but detractors also view it as a physical manifestation of sexist attitudes and policies borne out of Sharia law.
A Transforming World
In an increasingly diverse and multicultural world, you can walk down the street in nearly any country and spot someone sporting a hijab. It is ubiquitous in modern life. Some people will see a woman wearing one and not think twice about it. Others cannot help but take notice and offense. With Nike's athletic hijabs hitting stores sometime next year, the controversy surrounding this garment is unlikely to go away anytime soon.
So what do you think? Is the hijab simply an expression of faith, or is it representative of how men exercise control over women in Islamic countries? Do you support Nike's decision to release the "Pro Hijab"?