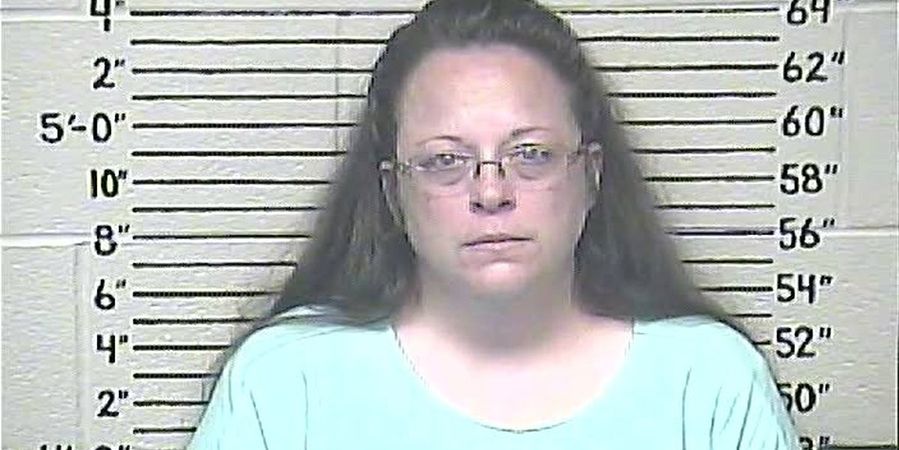 ---
The Kentucky county clerk who gained national notoriety for refusing to issue a marriage license to a gay couple shortly after the Supreme Court legalized same-sex marriage nationwide in 2015, has been washed away in a blue wave three years in the making.
Republican Kim Davis lost her bid for Rowan County clerkship re-election to Democrat Elwood Caudill Jr. in a decisive 54 to 46 percent decision.
Wave Goodbye to Kim Davis
The political tides seem to have finally turned. Although she was jailed for five days for contempt of court and thereby celebrated as a defender of religious freedom by social conservatives, many believe Davis' refusal to issue a marriage license to a same-sex couple under the pretense she was upholding "God's authority" is what precipitated her political downfall.
That backlash started when David Ermold, one of the gay men she refused to marry, managed to raise over $200,000 from donors nationwide to campaign against her- although he'd eventually lose the Democratic primary to candidate Caudill in May. For his part, Caudill pledged to serve every citizen of this county equally. Per his campaign website: "I will faithfully execute the job of Rowan County Clerk and serve all citizens equally. Of course that means LGBTQ+ citizens. I support every American's right to "life, liberty, and the pursuit of happiness," afforded them under the laws of our nation, and I do not believe our government should discriminate against anyone for being who they are."
To this day, Davis has stuck to her spiritual guns, claiming same-sex marriage went against her beliefs as an Apostolic Church member. "I took an oath to stand up and uphold our Kentucky constitution and federal constitution," she then clarified at a conference in October, "that's exactly what I did."
Have Your Wedding Cake and Eat It Too?
It is clear that in today's secular America, one cannot claim to both uphold the Constitution and make decisions under God's Authority. In other words, citizens conflicted with moral and religious objections to homosexuality cannot simply hide under the guise of the religious freedom amendment of our nation's founding document. Those in power must not let their personal beliefs cloud their ability to do their job.
Yes, Kim Davis is free to live her life biblically. And fellow Christians can continue to question how a woman who has been divorced three times and had children out of wedlock can claim to be so pious in the first place.
That being said, public servants need to keep their religious beliefs in check.
Because if the recent blue wave has taught folks anything, it's that those seeking to surf both sides of the secular/religious divide might just end up wiping out.