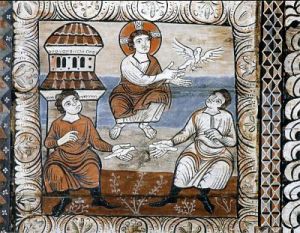 When attempting to portray a complete picture of the legendary Jesus, Biblical revisionists often rely on what the apocrypha have to say. As it turns out, these early Christian teachings, which provide accounts of Jesus's childhood rejected by church-fathers, do not always portray the benevolent, magnanimous Jesus most Christians whether conservative or progressive are inclined to believe in. Indeed, the portrait of Jesus we find when delving into these works is a child who uses his powers to kill those who, quite literally, rub him the wrong way.
When King Herod is informed that a baby boy will replace him as king, he orders the slaughter of all boys two years of age and younger. Having been informed of Herod's orders, Joseph, Mary, and the young Jesus flee (with a host of other young children) to Egypt. On the way there, they find a cave to rest in, but when they enter, they encounter a horde of winged, fire-breathing dragons. At this point, the future King of the Jews coolly displays his ominous potential:
And, lo, suddenly there came forth from the cave many dragons; and
when the children saw them, they cried out in great terror. Then Jesus
went down from the bosom of His mother, and stood on His feet before
the dragons; and they adored Jesus, and thereafter retired.
-- The Gospel of Pseudo-Matthew, Chapter 18
But the Lamb of God's powers do not remain dormant for long. In one book, Jesus is described as playing by a stream with some other children. While the other children are probably just splashing around, Jesus is digging pools of water next to the bank, in which he forms statues of birds out of the muddy clay. Being a miracle-worker, he then turns the bird-statues into real, living birds, which then fly away. Observing this, a child comes by and proceeds to splash the water in the pools with a stick. Jesus does not take kindly to his playmate's antics, and uses his spell-casting powers to wreak vengeance on him:
"O evil, ungodly, and foolish one, what hurt did the pools and the
waters do thee? Behold, now also thou shalt be withered like a tree,
and shalt not bear leaves, neither root, nor fruit." And straightway that
lad withered up wholly.
-- Infancy Gospel of Thomas 3:2-3
Just a little later in the same day, Jesus is gallivanting about town performing errands as well as the occasional miracle when a boy accidentally bumps against him in the street. What would Jesus do, you ask? This time, he lacks the patience to watch him wither and die:
Jesus was provoked and said unto him, "Thou shalt not finish thy
course." And immediately he fell down and died.
-- Infancy Gospel of Thomas 4:1
And no matter the creature, whether great or small, Jesus is not necessarily compelled by any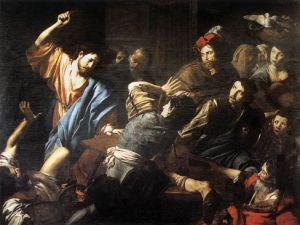 nagging conscience to acknowledge an act of contrition; indeed, like his Old Testament father, Yahweh, he much prefers a merciless display of wrath to keep his loyal subjects in line. Apparently, the children of Nazareth feared him so much that some of them became his sycophants, guarding him and forcing others to pay their respects to him. In one case, a group of men carrying a small child through town refuse to follow the terrified children to visit the Christ-child. When Jesus asks the men why they refuse, they say that they urgently seek a cure for the child, who has been bitten by a poisonous snake. Even after the snake shows penitence for its crime, Jesus deals with it as a true son of Yahweh would:
Then the Lord Jesus calling the serpent, it presently came forth and submitted to him; to whom he said, "Go and suck out all the poison which thou hast infused into that boy"; so the serpent crept to the boy, and took away all its poison again. Then the Lord Jesus cursed the serpent so that it immediately burst asunder, and died.
-- First Gospel of Infancy 18:13-16
Finally, the Nazarenes have had enough. They tell Joseph to discipline his child or leave town, and Joseph relays this ultimatum to his son. However, the way the savior of humanity shows mercy to those who tattle on him for being a child-killing tyrant is to reduce their punishment from death to mere blindness:
Jesus said, "I know that these thy words are not thine: nevertheless for thy sake I will hold my peace: but they shall bear their punishment." And straightway they that accused him were smitten with blindness.
-- Infancy Gospel of Thomas 5:1
Conservatives might smugly proclaim, "Well, we don't have to worry about these silly apocrypha, because, after all, they are apocryphal because they weren't inspired by God. They are just human perversions of the true story of Christ." It would seem, then, that the apocryphal Jesus poses a problem for progressive revisionists, and not for conservatives. But the above claim by conservatives assumes that the apocrypha are indeed false, and the accepted canon, authentic. How do we know that the church-fathers, in compiling a divinely-inspired sacred text, really did reject the inauthentic books, and accept only those that were channelled from God? It is not necessarily more reasonable to believe that the church-fathers were guided by God in their selection of texts than it is to believe that they were guided by their own personal bias. Consequently, the church-fathers may have rejected as apocryphal books which did in fact contain divinely-inspired accounts of Christ including the malevolent Christ. Thus, if the malevolent Christ is a problem for progressive revisionists, it is also a problem for conservatives. It is, ultimately, a problem for anybody who believes in Jesus.
Of course, for the right-wing, war-loving jingoist, the ruthless, aggressive Jesus is not a problem in fact, he is a virile, red-blooded hero but who in their right mind takes the ethics of such an individual seriously, steeped in machismo as they are? If we should be admiring and emulating a forgiving, forbearing, magnanimous deity, we cannot adopt such a Jesus; we have to look for the non-egoistic, proactively peace-loving one. And yet, as stated above, if the reliance on the apocryphal Jesus poses a problem for progressive revisionist, it also poses a problem for the conservative, since it is reasonable to believe that the true Christ is depicted in the apocrypha as well as the canon. Where, then, do we find the good Jesus? Or should we stop looking for him and content ourselves with the possibility that Jesus was not only imperfect, but impetuous and dangerous?
Source: