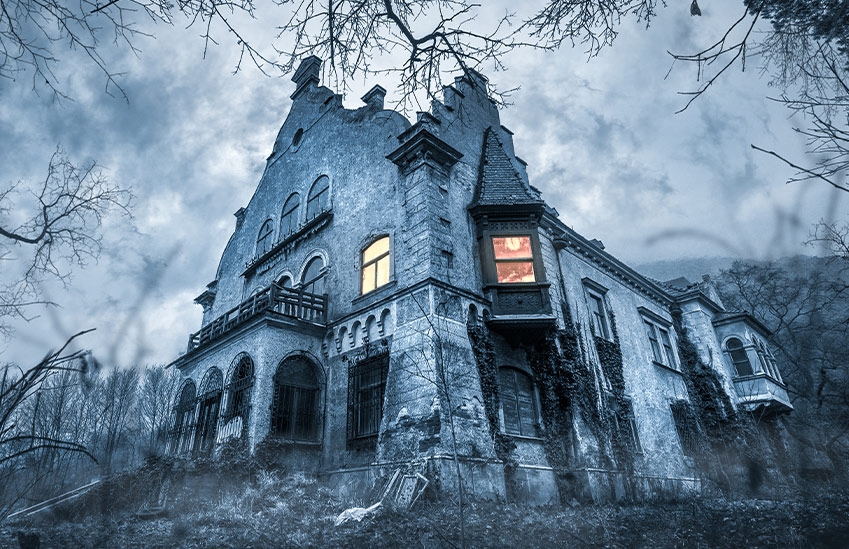 ---
Trinity Church in Cedar Hill, Texas just reopened the world's most famous 'Hell House', a church-hosted mix of interactive theater, slick videos and haunted-house scare tactics designed to frighten the living hell right into thousands of teens every October.
Hell houses are an increasingly common attraction at churches nationwide during Halloween season. Posing as standard haunted house attractions, they are anything but. Inside you won't find standard haunted house fare - no creepy clowns, werewolves, or zombies. Instead, thousands of enthralled teens will see all of society's real-life demons - gun violence, drunk driving, sexual abuse, drug addiction - topped off with graphic depictions of sinners burning in hell. All in an effort to scare teens right back into Jesus Christ's waiting arms.
"There is Something After Our Kids"
"Something is out to destroy our kids," explains Pastor John Michael Barajas, director of the Trinity's 28th Hell House iteration. "We want to shed light on what the enemy is trying to do to our children. Whether you believe in God or not, you can't see the suicide rate, the murder rate, and deny that there is something after our kids."
Waging this battle against Satan entails herding enthralled and excitable teens through a heart-stopping 45-minute labyrinth, often at the behest of masked men and shouting demons, at $13 a pop.
In a series of dark rooms come interactive scenes of intense and often graphic violence: a demon coercing a mother who forces her young daughter to get an abortion; a daughter talked into killing her mother after she's been sexually abused by her father, ultimately turning a razorblade on herself; a snide devil whispering racist slurs that are repeated by Trump supporters and Black Lives Matters counter-protestors before a shot is fired.
Hell house designers make the scenes culturally current, so as to hit as close to home as possible. "We used to have a rave scene back in the 90s," said Barajas. "But that doesn't resonate with young people today like a girl putting her provocative photos on Tinder does."
Do Hell Houses Work?
First popularized by Jerry Falwell in the 70s, hell houses gained true notoriety when the Trinity Church recreated the Columbine School shooting only six months after it happened, portraying the killers as Satan's agents sent to slaughter Christian students.
It's not difficult to see why hell houses have since become the national rage.
And while churches may insist a third of those who go through themget 'saved', others, like chairman of the Charles Colson Center for Christian Worldview Timothy George, aren't convinced. "It may be that some young people will find their way to genuine faith through such ghoulish shenanigans, but their overall import is a distortion of the gospel. Those who indulge in such displays are taking something serious, eternal, and consequential and treating it with a finesse of a butcher doing brain surgery."
Scaring is Caring
The question is, can you really scare people into salvation?
R. Marie Griffith, director of the John C. Danforth Center on Religion and Politics, seems to think Christian history is at least partially built on that very notion. "Dante wrote about it in The Inferno. And the Puritans had their own way of scaring Christians with the afterlife. But the immersive medium of a hell house is a somewhat new way of scaring people into virtue, and it is terrifying."
But former hell house actors like Ryan Connell have been so traumatized by participating in these yearly events that they can barely even return to the grounds where they once worshipped. "I haven't been able to sit through a church service without having a hardcore panic attack," he insists.
However, for Pastor Barajas, it's all worth it if he saves some souls. "The point of hell house is to show that there's a real hell," he says, "and that the mercy of Jesus is the way to heaven."
What do you think? Is scaring teens into Jesus' loving arms part of the Christian tradition, a legitimate way to recruit the faithful? Or do hell houses go above and beyond and cross the line into inappropriate or even traumatizing?