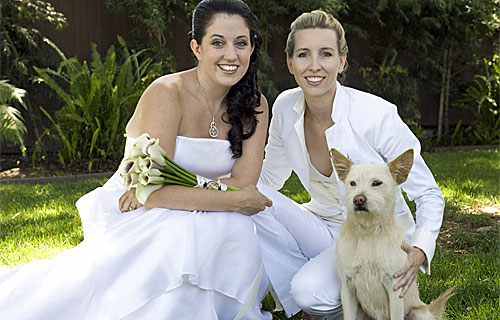 As regular readers of this blog know, California's Proposition 8 will be on the ballot Tuesday, and couples are rushing out to tie the knot before election day. If it passes, Proposition 8 will ban same-sex marriage throughout the state of California, however pre-existing marriages will be honored. In San Francisco there are so many couples rushing to city hall that the staff does not have time to handle any more marriages.
Note to same-sex couples wanting to marry by election day in case Proposition 8 passes: City Hall is completely booked for marriage licenses and ceremonies Friday, Monday and Tuesday.
(CI)

With the city hall at capacity, couples in the are looking for other wedding options; couples are turning to the Universal Life Church.

there are plenty of places to wed under the deadline. Just ask Victor Andersen, a 27-year-old Redwood City resident and ordained minister in the Universal Life Church.
(CI) Couples are getting married in record numbers throughout California and the wedding industry is feeling the boom across the board. The demand for wedding related services is high.

Traci des Jardin, is a close friend who will be catering at least 14 gay weddings in October. Des Jardin assured Frankeny and Harris that what they jokingly call their "shotgun wedding" would be perfect.
(LAT)

There is no doubt that the proliferation of these "shotgun" marriages has been an unintended consequence of the Proposition 8 campaign.