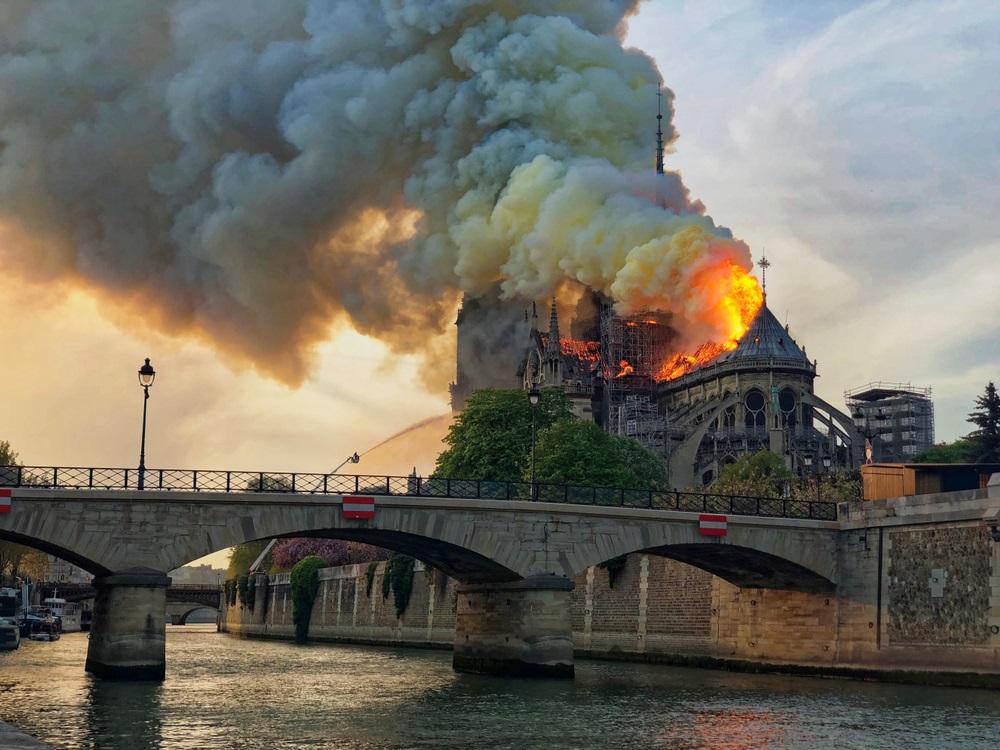 ---
All eyes were on Paris earlier this week as the famed Notre Dame Cathedral caught fire, suffering massive damage. Even as the iconic monument was still smoldering, donations began coming in from all over the world to help fund the structure's rebuilding.
But as this was happening, a parallel movement sprang up back in the United States this one focused on three much lesser known houses of worship. Over the course of several weeks prior to the Notre Dame blaze, three historically black churches in Louisiana had been destroyed by fire. And these acts were no accident according to local authorities, all three fires were the work of an arsonist, purportedly with racist motivations.
A Trickle Becomes a Flood
And yet, what began as a tragic story of hate soon morphed into one of unity and common humanity. It all started with a GoFundMe page formed by the Seventh District Missionary Baptist Association in the wake of the incidents. The church group announced it needed to raise $1.8 million to cover the costs of the damage.
At first the donations came in slowly and in small amounts barely enough to move the needle. But then Notre Dame caught fire, and so did the campaign. Athletes, politicians, journalists, and other prominent figures began sharing the fundraising page on social media. Their message: Notre Dame will have no shortage of donors as it rebuilds, so let's help these small churches that are also in great need.
Other notable names who helped spread the word included actress Kristin Davis, talk show host Busy Phillips, and late-night host Seth Meyers. As the campaign went viral, it suddenly raised $400,000 in a period of just a few hours. It continued to gain momentum from there, and by yesterday had exceeded $2 million well beyond its stated goal.  
An Act of Hate, Overshadowed by Love
Holden Matthews, the 21-year-old son of a St. Landry Sheriff's deputy, has been charged with arson in connection with the fires at St. Mary Baptist Church in Port Barre, Greater Union Baptist Church in Opelousas and Mount Pleasant Missionary Baptist Church in Opelousas all of which burned down between March 26 and April 4.
Retired NFL tight end Ben Watson, who played for the New Orleans Saints, was one of the first public figures to donate, explaining that he felt it was important to stand with all three churches as well as the black community as a whole.
"The fact that black churches were burned to the ground is a reminder of the fear and pain so many communities have repeatedly experienced since emancipation. This trauma resides deep within all of us, black and white, in America."
The Rev. Harry Richard of Greater Union Baptist Church considers the nationwide support nothing short of a miracle. "I think that God has allowed this to happen to really bring us closer together. God always intervenes with love...It's the kind of love we're getting now that will carry us forward."
Helping Thy Neighbor
Rev. Freddie Jack, President of the Seventh District Missionary Baptist Association, could hardly believe what he was seeing as donations kept coming in. He later told reporters:
"I'm just thankful for people responding as they are to meet the needs of these three pastors. It feels awesome to know that people you've never met, never had a conversation with, are calling you and telling you who they are and offering to help. From the east to the west they're reaching out and contributing to our needs."
This tremendous outpouring of support provides an uplifting bookend to a disheartening story. Thanks to all those who donated and shared, these churches will not only be able to rebuild successfully, they'll do so knowing they have the backing of thousands of people from all manner of different faith backgrounds and political leanings.
It's certainly nice to see a reminder that when called upon, we can still come together despite our differences to help others in their hour of need.