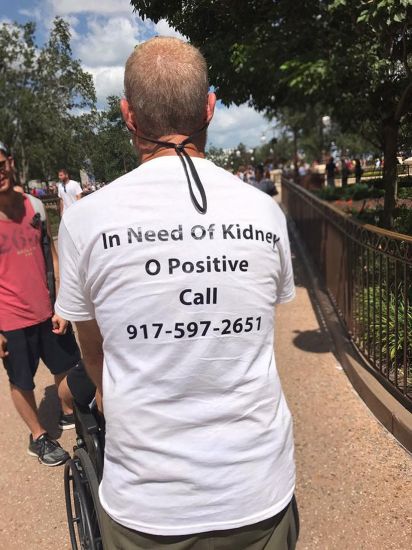 A combination of Disney magic, the power of social media, and the kindness of strangers has changed the life of one single father from New Jersey forever.
Robert Leibowitz, 60 years old, has suffered from a chronic kidney disease for decades.
His condition steadily worsened to the point that Robert now requires lengthy dialysis treatment several times a week. He managed to get on a wait list for a kidney transplant, but these things move at an agonizingly slow pace. Prospects were dim.
With his health deteriorating, Leibowitz and his 5 children decided to take a trip to Disney World in the hopes of creating some lasting memories.
This is when the Leibowitz kids had a genius idea: appeal to the Disney crowds to help their dad. They made a T-shirt for Robert to wear as they walked around park. It read:
"In Need Of Kidney, O Positive, Call 917-597-2651"
**Facebook Famous
**
While wading through the crowds at Disney World, Robert and his children were approached by a woman named Rocio Sandoval. Struck by the message on his shirt, Rocio asked if she could take a picture and post it on her Facebook page.
Before long, Leibowitz's plea for help started to gain traction. A handful of shares turned into hundreds, then thousands. The post had gone viral.
"Her picture just blew up! When we were boarding the plane, it was at, like, 40,000 shares. That's when the calls started coming in," recounts Leibowitz's son, Max. From all over the country, social media users began dialing the number to offer their kidneys to Leibowitz. However, kidney donations require a perfect match, so finding the right donor can be tricky.
**Finding a Match
**
With the Facebook photo of Leibowitz's fateful shirt nearing 90,000 total shares, it finally reached an ICU technician in Indiana. The technician remembered that a friend, a man named Richie Sully, had just found out his blood type a day before O Positive.
Upon hearing of Leibowitz's plight, Sully wasted no time calling the number on the shirt. He informed Leibowitz that he was a match.
But here's the incredible part. In order to follow through, Sully took a 15-hour bus ride from his home in Fort Wayne, Indiana to New York City in order to undergo the final compatibility tests and meet the man he would be donating his kidney to for the first time.
With all the tests completed, the transplant operation has been set for January 18th.
Asked about this selfless act of good will toward a complete stranger, Sully replied: "the way I was raised, if someone needs help you give it to them".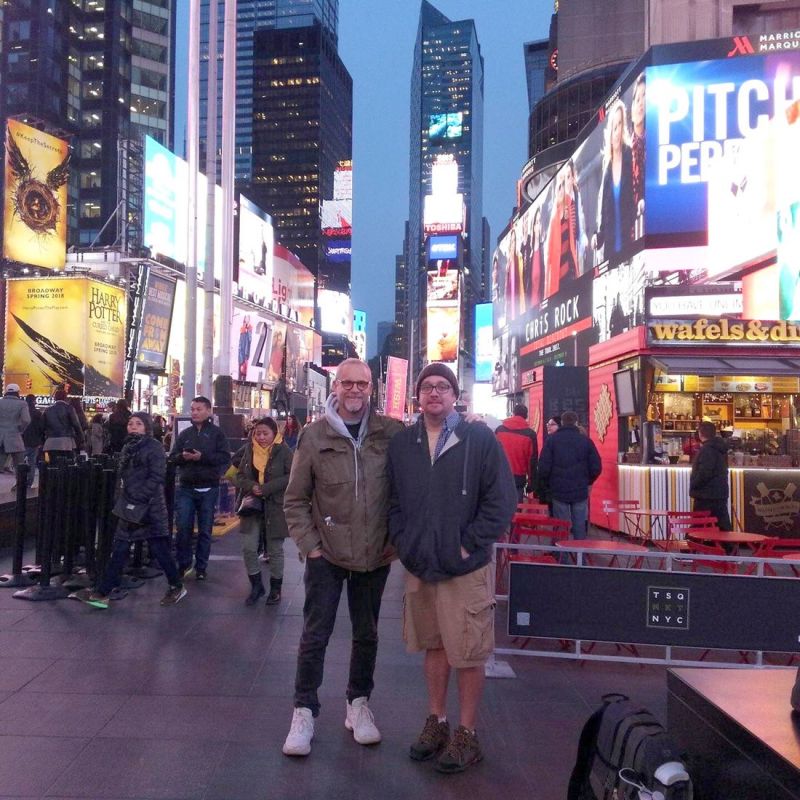 The Kind Stranger
The beauty of this triumph is not merely that Robert Leibowitz can now receive a new lease on life. Thanks to the generosity and sacrifice of someone who had never even met Leibowitz, the story takes on a much deeper meaning. The willingness to travel all that way and undergo surgery to save a stranger's life that is compassion personified.
And to think, it was all sparked by a T-shirt and a visit to Disney World. Fittingly, the park's slogan is "Where Dreams Come True". While this story probably speaks more to the power of social media than Disney's dream-making abilities, it's a wonderful coincidence nonetheless.
Everyone says they want to make a difference in the world, but few people know how to put those words into action. Heading into 2018, we are encouraged to know that people like Richie Sully are out there -- ready and willing to help in any way they can.