2015 was a year of monumental change. One of the biggest shifts we saw was the Supreme Court's legalization of same-sex marriage, making it legal to get married in all 50 states. This changed things for gay couples who had waited for so long for their state to legalize same-sex marriage. It also made it easier for couples who were married but didn't live in a state that recognized the marriage. Since the ruling, most Americans have celebrated along with their friends in the LGBT community. However, there has been a rift between those who want marriage equality and those who feel that gay marriage interferes with their religious beliefs. For the most part, these religious people have kept quiet, and some religious people see nothing wrong with same-sex marriage but things can get complicated when a person opposed to same-sex marriage is asked to serve a same-sex couple. We have seen this covered by the media on several different occasions.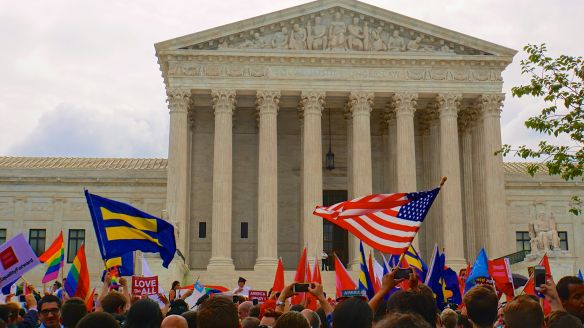 The Legend of Kim Davis
No doubt you remember Kim Davis, the Kentucky county clerk who dominated national news when she refused to issue a single marriage license after the Supreme Court's ruling. This includes for both homosexual and heterosexual couples. Davis is a born-again Christian, and she claimed issuing marriage licenses to homosexual couples was contrary to her religious beliefs. She also attempted to bar her staff from issuing these licenses (they were issued her name). Her battle over the issue went on for months, and while it may not be completely over yet, here's a condensed timeline of what we've seen:
She was sued by four couples, and she was told by a judge to begin issue marriage licenses again immediately.

She continued to refuse, and was eventually held in contempt of court.

She spent five days in jail before being released on the condition that she not interfere with any more marriage licenses to be issued.

When Kentucky's new governor took office several weeks ago, he signed an executive order removing the clerk's names from the marriage certificates.
Battle at Fontbonne Academy
One of the most recent victories in same-sex equality concluded just a few weeks ago at Fontbonne Academy. Fontbonne Academy is an all-girls Catholic school in Massachusetts. In 2013, they offered a job to a man named Matthew Barrett. Barrett was to be the school's food service director. However, when he accepted the job and filled out his paperwork, he listed his husband as his emergency contact. Once the school board members found out he was gay, they rescinded his job offer. Barrett sued, and a judge ruled that the school discriminated against him because of his sexual orientation. The school claimed that it was their Constitutional right to take back their job offer because it went against what they believed in, but it was not enough to sway the judge.
Continued Challenges
While the fight has largely been won, LGBTQ individuals still face significant challenges across the country. While it's delightful to hear that marriage equality groups in more progressive areas like Vermont are able to shut their doors in the wake of victory (as happened recently), other areas seem to be moving in the opposite direction: in states like Georgia lawmakers are still proposing bills that would undo marriage equality, and some Presidential Candidates have outlined specific proposals to accomplish the same feat.
What Does Religious Freedom Mean?
This is just a couple of the many examples of some particular religious beliefs and gay couples clashing. It has made many people wonder where the line is to be drawn. However, what these people fail to realize is that you can have your religious freedom while leaving those who have a lifestyle you disagree with alone. Just by living their own lives freely, people aren't interfering with your right to religious freedom. We are all children of the same universe; regardless of your particular beliefs, our task is not to judge but to show love and compassion for our fellow man.
New Year, New Strides?
We made great strides forward on the path toward equality in 2015. In the new year we shall surely see even more challenges to the idea of universal acceptance, but we hope eagerly to find ourselves even closer to the ideal state when the year closes. The world is fractious enough as it is, perhaps it's time that we stop manufacturing these conflicts and come together.
What do you think? Can 2016 be the year of true equality?