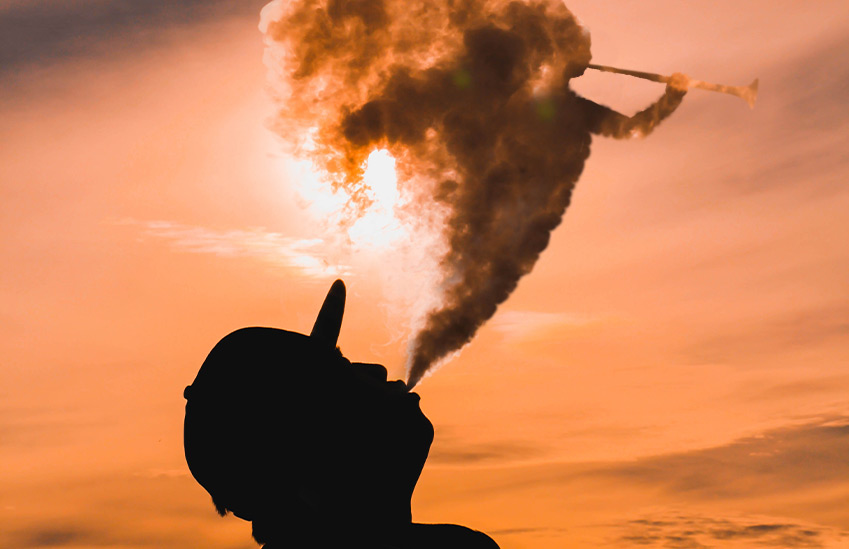 ---
Young Mormons lured into believing tobacco-free vapes had fallen under their church's radar have just watched their mango, mint and watermelon dreams go up in smoke.
The Church of Jesus Christ of Latter-day Saints scriptures already prohibits alcohol, tobacco, illegal drug, and even coffee/tea consumption. Now they've officially come down on e-cigarettes in this month's edition of its official youth magazine, the New Era.
"Electronic vaporizers or e-cigarettes are devices people use to inhale mist, usually with various flavors. One study showed that nearly two-thirds of teen e-cigarette users thought that the pods they were vaping contained only flavoring. That's way, way far from the truth. Most vaping pods contain nicotine, which is highly addictive, and all of them contain harmful chemicals. Vaping is clearly against the Word of Wisdom."
Vapor Madness
The move comes as vaping continues its meteoric rise in popularity amongst young people-- something that has watchdogs worried. Though not quite as toxic as tobacco, nicotine the Center for Disease Control deemed e-cigarettes dangerous to the "developing adolescent brain", particularly those areas governing important functions like self-control, attention, and mood. Medical findings have also found vaping can damage the lungs and increase the risk of strokes and heart attacks.
However, those facts haven't stopped young people from their mistaken belief that vapes are harmless. The level of nicotine in a single JUUL pod is equivalent to that of an entire pack of cigarettes. And they are often sold in a form that resembles a USB flash drive, which makes it particularly challenging for parents and teachers to spot.
Interestingly, the LDS church has anticipated similar historical health hazards.
When church founder Joseph Smith first opened his School of the Prophets in Kirtland, Ohio back in January 1833, some 25 elders from all corners of the country would pack that tiny, dingy room, "light a pipe and begin to talk about the great things of the kingdom and puff away," before proceeding to chew tobacco and spit it all over the floor.
It's here that the Mormon Church prophet attempted to teach these men to become holy, "without spot," and worthy of the presence of God, creating the Doctrine and Covenants 89, known today as the Word of Wisdom, which forbids the consumption of alcohol, drugs and hot drinks, cautions against eating too much meat and favors "wholesome herbs, fruit, and grains for pure, healthy and holy living."
Ban It Like Brigham
The LDS church continues to catch a lot of flack for their prohibition of certain foods and beverages. Students at Brigham Young University had to fight for the right to simple canned caffeinated sodas back in 2012. And more than a few Mormons still can't understand why antioxidant green tea remains a banned substance.
Interestingly, LDS leadership has also shown some willingness to bend its own rules lately. Last year's decision to back legislation allowing the sale of medical marijuana in the traditionally conservative state of Utah.
On its face, this would seem a rather rational decision based on solid scientific evidence.
What are your thoughts? Has Mormon leadership made the right call by officially coming down on vapes? Or is their judgment clouded?