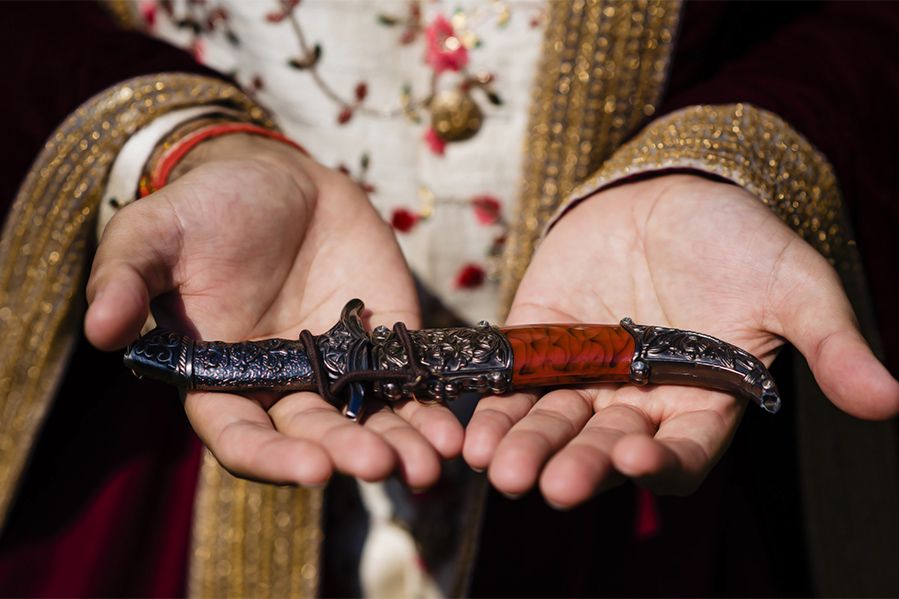 A Sikh man was handcuffed at the University of North Carolina Charlotte for wearing a kirpan, a mandatory article of faith Sikhs must wear at all times. 
The young man was reportedly minding his own business in the student union building when campus police approached him after receiving a 911 call alleging that someone was on campus with a knife.
Sikhs are required to wear a kirpan, a ceremonial dagger that (in modern times) is typically blunt or sewn into its sheath entirely.
After trying to remove the kirpan from the student's person, campus police detained and handcuffed the man for resisting.
Video of the incident, which took place in late September, is going viral on Twitter and Tiktok, and has been viewed millions of times. 
The school is already backpedaling to apologize, considering the kirpan is a mandatory article of faith and as such is legally protected. But the incident upset Sikhs across the country, who say it's not only a gross violation of the young man's religious freedom, but also a sign of ignorance of Sikh culture and traditions in America.
Kirpan Panic
"A grotesque breach of religious freedom" and "highly irregular" is how the California Sikh Youth Alliance described the incident, which was uploaded by the young man to his Twitter account.
The following day, University of North Carolina Charlotte Chancellor Sharon Gaber issued an apology.
"State law and University policy prohibit the possession of a knife or other edged instruments on campus," she wrote. "But we will use this as a learning opportunity by engaging in constructive dialogue with Sikh students and employees."
The incident opened a dialogue on social media on the kirpan and its role within the Sikh faith.
The kirpan is a curved dagger carried by Sikhs, and it is one of the five articles of faith that are mandatory for Sikhs to wear at all times.
The kirpan symbolizes the Sikh's commitment to defending those in peril. Traditionally it was a full-length sword, but most modern Sikhs wear it as a small, unsharpened dagger in courtesy of modern society's morals.
Harsimran Kaur, senior counsel for the Sikh Coalition, explains that the kirpan is symbolic of the Sikh commitment to protecting the helpless. "You're wearing it to commit yourself to that value. It's not just about physically defending someone. It's literal and metaphorical; you stand up and speak out about injustice when you see it."
Outside of high security areas like airports, the right to wear a kirpan is protected by religious freedom laws. Still, violations happen. 
In 2010, a Sacramento nursing home prohibited an employee from wearing the kirpan, even after she explained the item's significance. And in 2015, a teen in New York City was arrested and charged with Criminal Possession of a Weapon. The charges were ultimately dismissed.
Sikh advocates say that misunderstandings are becoming less frequent as American society gains a broader understanding of Sikh values and traditions. As Kaur explains, misunderstandings were far more frequent in the decade following 9/11.
Excuses, Excuses
But some question whether ignorance is an acceptable excuse for what happened.
After all, critics point out, there are some 30 million Sikhs on the planet – making it the fifth largest religion in the world. Shouldn't campus security have a basic understanding of such a widely-practiced faith?
The school said in its apology statement that "our diversity makes us a better, richer, more successful community."  But critics ask: shouldn't celebrating diversity include a basic education on articles of faith of the world's major religions?
One Twitter user added: "I must admit I was unaware of kirpan, the significance, or that it has legal exemptions. But then again, I am not a campus police officer on a multicultural campus. Seems like the people we pay to enforce laws, should be well educated in our laws."
What is your reaction?