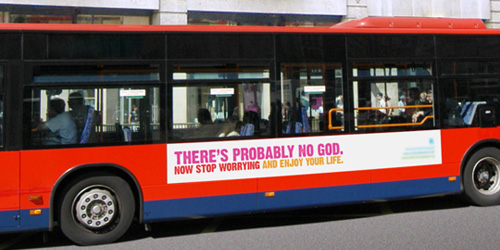 A British Humanist group began their "Atheist Bus Campaign" yesterday, and within 10 hours reached their funding goal through online contributions. With donations being collected by The British Humanism Association, the group plans to run bus side advertisements in London, identical to the one pictured above.
** We reached the total at 1006 BST (GMT+1) on 21st October, just over 10 hours after launch - thank you so much to everyone who contributed! If you haven't donated yet and would like to then please do - we can then get adverts inside the same buses to strengthen the campaign's impact! **
(ABC)

With the rapid success of the campaign, the Atheist Bus Campaign hopes to raise enough money to include in-bus advertising as well. By promoting the concept of atheism and encouraging atheists to go public with their beliefs, it is not surprisingly this advertising campaign has its critics.

Stephen Green of pressure group Christian Voice said: "Bendy-buses, like atheism, are a danger to the public at large."...

..."People don't like being preached at. Sometimes it does them good, but they still don't like it." (

BBC)

In spite of the campaign's opposition, it is being welcomed by an unexpected source.

the Methodist Church said it thanked Professor Dawkins for encouraging a "continued interest in God".

Spirituality and discipleship officer Rev Jenny Ellis said: "This campaign will be a good thing if it gets people to engage with the deepest questions of life."

She added: "Christianity is for people who aren't afraid to think about life and meaning."
(BBC)
Atheism is hotly contested as a spiritual choice, however we embrace it, along with all other religious theology here at the ULC Monastery - we are all children of the same universe.