Minister's and Wedding Gallery Submission Template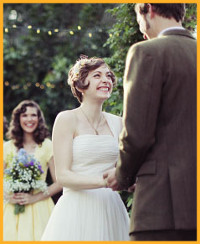 Thanks for your interest in sharing your wedding photos with fellow ULC Ministers, married couples, and the soon-to-be-wed. Weddings are often the most beautiful day in a person's life, the wedding albums from these events deserve to be displayed. If you'd like to share your wedding pictures, your wedding story, quotes and/or comments please feel free to submit these. Although we can't publish every wedding album we receive, we will carefully review your submission in hopes of putting it up for display.

People love to see the joy and participate, secondhand, in the whole wedding celebration, so please share as many wedding photos as you can, as well as a brief description or funny anecdote with each photo. If you have officiated more than one ceremony, you might find it easiest to submit two or three photos from each. As an ordained ULC minister you will be a large part of the couple's lifelong memories, this is your chance to share!
Gallery Guidelines
Click HERE to view an example submission to get a general idea of what we are looking for. Don't hesitate to write long comments either!
The primary purpose of this section is entertainment for all.
Submissions not following these guidelines cannot be accepted.
Minister's name and ordination date is required.
Minister's contact info is optional, and is included solely at our discretion.
The listing of your personal email or phone is not recommended.
All submissions are subject to edit, cropping, or omission if deemed necessary.
Permission from all parties involved is implied and assumed on submission.
Once submitted, content becomes property of the Universal Life Church Ministries© for public display.
Images should be a minimum of 500 pixels wide and of reasonable quality.
Photos by professional photographers may include their watermark or tasteful name or url.
Please submit as many photos of the wedding party setting/grounds, preparation, ceremony and reception as you can.
Please include at least one photo of the officiant in action.
Listing the names of the couple is optional, please avoiding listing the names of children.
Direct quotes or thoughts and feelings from the participants are encouraged.