Universal Life Church - Official Site - Est. 1977
Get Legally Ordained to
Perform Weddings
Everyday Universal Life Church ministers perform thousands of legal weddings, baptisms, funerals, and even operate their own churches! If you are wondering how to become an ordained minister, you've come to the right place. Utilizing the ULC's instant online ordination platform, anyone who feels so-called can become a minister within seconds.
Ordination is Fast, Free, & Easy
Perform Weddings Legally
Gain Free Access to ULC Training Center
Utilize our Wedding Ceremony Script Generator
Over 20 million people around the world have already chosen to get ordained online with the Universal Life Church; over the last few decades it has become one of Earth's largest and most active religious organizations. The Monastery has only two tenets: 1. Do only that which is right, and 2. All should be free to worship as they see fit. Get ordained online today and join the Universal Life Church's global family!
Once Ordained, Get Your Minister Certification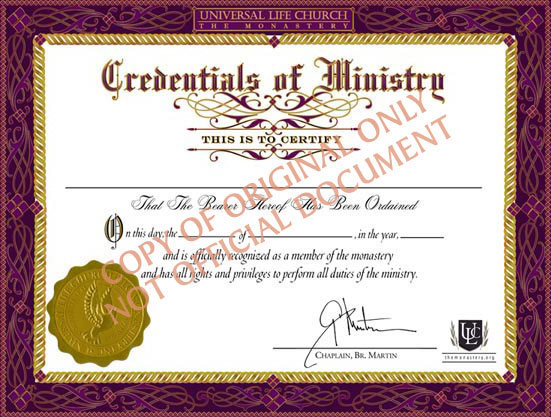 Notable ULC Ministers

Conan O'Brien

Stephen Colbert

Benedict Cumberbatch

Dwayne Johnson

Richard Branson

Lady Gaga

Sir Paul McCartney

Sir Ian McKellen
Instantly become ordained like these ministers:
My old church wasn't fulfilling me. I got ordained to kind of direct my own spiritual journey, the extra cash from officiating was a nice bonus!

Angela Welch, Brookhaven, Georgia

Ordained: 03/02/2012

I got ordained online to start a ministry up here in Maine. $40 later, and my life was changed. I'd recommend to anyone feeling lost.

Sam Trujillo, Kennebunkport, Maine

Ordained: 11/10/2010

I didn't take being a minister very seriously at first. Now, I'm so glad I joined. The ULC community has been a blessing in my life.

Michael Pettibone, Lake Elmo, Minnesota

Ordained: 02/13/2015

I was ordained by the ULC in 2014 to perform my sister's wedding. It was the best experience, and since then I've officiated dozens more!

Candace Meyers, Fort Collins, Colorado

Ordained: 05/14/2014