Pop Up Chapel is Born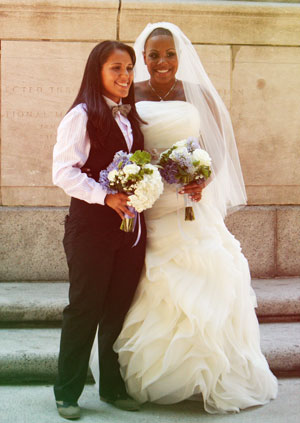 How many times have you had a great idea in a bar and then forgot about it?
Pop Up Chapel is a story that starts like that, but instead of forgetting, this group of friends put together an unforgettable event that allowed 24 same sex couples to get married free of charge on a beautiful day in Central Park.
July 30, the day of the event was only a month after the passing of the marriage equality bill. For many, it was a month of celebrating, but for this group of friends it was around the clock work to make sure it went off with hitches, but no problems.
"Bex [Schwartz] wanted to marry every gay couple in New York, I wanted to do two," said Josh French the night before the event.
His restraint and hesitation was based on the fact that neither he nor Bex, nor anyone else on that team, had ever planned a wedding before, much less 24 in one month. This problem was fleeting however, because once the prolific wedding planning website theknot.com found out about the event, they jumped on board to help.
Their support was the catalyst for the flood of support that was to follow. City Cakes, among other stores including a small kitchen store in Brooklyn, donated the wears for beautiful gift bags each couple received. Architizer.com helped put together a contest that provided the group with two beautiful chapels and JustMarried.com helped put together an army of volunteers that manned the event and kept the hectic day going without the slightest problem.
"There must be some sort of karmic good for things like this, whenever we needed anything there was someone there willing to help," said Bex Schwartz, another Pop Up Chapel team member. "We were having trouble answering all the emails and then Toledo Kelly, offered to field them all from Toledo."
The work proved to be worth every stressful moment and minute spent out in the burning August sun as 48 gay men and women walked about away happily married after eight straight hours of gay weddings.
Throughout the day the crowd had ebbed and flowed, but to everyone's great joy and surprise, the metal pen that was supposed to be used to corral protestors remained empty all day. Those surrounding Merchant's Gate that day were supportive, curious and proud.
"The whole world is happy for you right now" yelled a spectator. Minutes later, a woman explained to her nephew that "you're not watching two people get married, you're witnessing history."
It was true too. Despite the protests earlier that week and the years of litigation and legislation, it does appear that New York City, one of the world's largest hubs, has embraced gay marriage, a sign that many more places are soon to follow.
"You know you have made it when no one even shows up to protest," said ULC Reverend Woody Enoicaras.
Congratulations to the couples and to New York City in general, hopefully this example will permeate into the rest of the country and someday everyone will enjoy the freedom of equality.