Sean McNally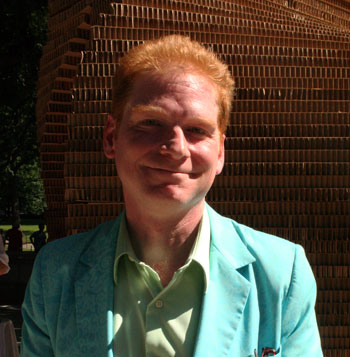 Mild mannered and unassuming, Sean McNally was able to amaze and astound guests as he performed one very beautiful wedding ceremony and a renewal of vows that brought everyone to tears on July 30, 2011 at the Pop Up Chapel in Central Park.
Sean has been performing weddings since the mid-1990s and his experience allows him to be versatile and tailor each individual wedding to every couple. His secular style allows him to perform ceremonies that people would be unable to have without the ULC as in the majority of weddings there is some mention of deity.
His demeanor is often misleading, as Sean is one of the best humored people that the ULC has ever had the pleasure of working with. Having performed dozens of weddings in his time as a minister and he loves quirky secular services.
"It was fast, getting ready for these weddings," McNally said on the eve of the event. "Normally there is more time for counsel I suppose."
Speaking of UFO themed weddings, or ones featuring Bigfoot, we were surprised to see him performed a renewal of commitment that was somewhat traditional, but every bit as fun and beautiful the other services he spoke of.
"Sean was great to work with, very personable and understanding," one of the couples said just minutes before their service. It was supposed to be casual and comfortable, and Sean exceeded all expectations as he stood before them in a green blazer and declared them wed.
Not bothered by the heat, McNally performed his second service in the heat of the day and it was so moving that guests and participants began to cry as he began to speak and the tears continue until he declared their vows renewed.
Sean McNally was a joy to watch and work with. The Universal Life Church is looking forward to hearing much more about him in the future.