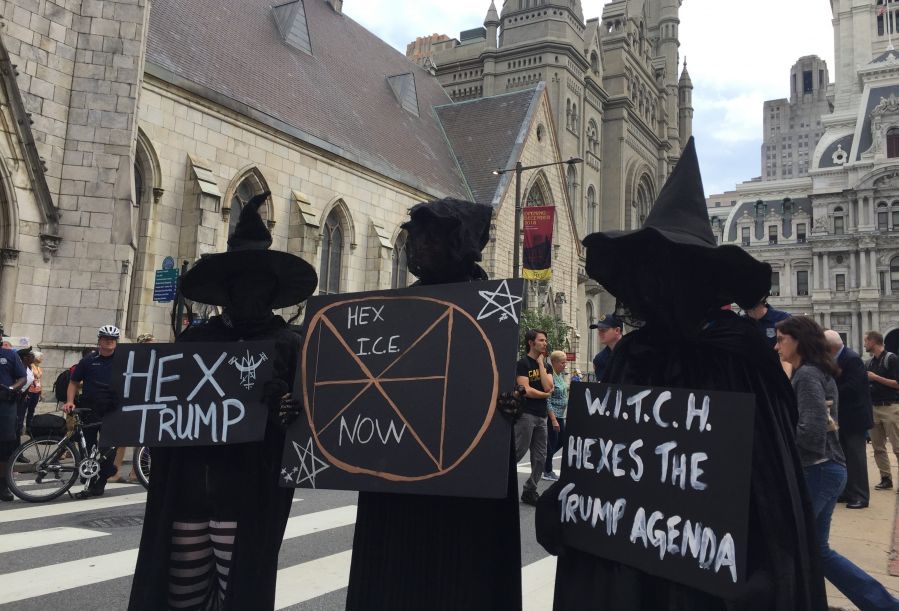 Over the past two years, the phrase "witch hunt" has enjoyed renewed popularity primarily thanks to its common appearance on President Trump's Twitter feed. While not everyone is thrilled by the president invoking such imagery, one minority demographic in particular has taken issue with the terminology: witches.
Many in the Wiccan community argue the term is not only problematic, it's deeply inaccurate. "If Mueller's investigation were truly a 'witch hunt,' then Donald Trump would be hanging naked from chains in a cold barn somewhere, being tortured into admitting his pact with Satan, before being burned at the stake. Instead he's golfing at Mar-a-Lago," writes author Kitty Randall.
She's hoping to raise awareness for the "traumatic emotional imprint" the president has helped carve into the nation's witch community. "To have him compare his situation to the worst period in our history is just infuriating," Randall says.
Assessing the Damage
Wiccans who are frustrated with Trump point out that he has used the term "witch hunt" (usually in reference to the special counsel investigation) over 60 times on Twitter - including four times this past Sunday alone.



....The Russian Witch Hunt Hoax, started as the "insurance policy" long before I even got elected, is very bad for our Country. They are Entrapping people for misstatements, lies or unrelated things that took place many years ago. Nothing to do with Collusion. A Democrat Scam!


Donald J. Trump (@realDonaldTrump) December 16, 2018
For some witches, each utterance of the phrase is a fresh reminder of the painful history of their people the many innocent men and women were murdered both in the American colonies and across Europe thanks to "witch" fearmongering.
But since Trump doesn't exactly have a reputation for backing down from the use of abrasive language, few in the Wiccan community expect to see an apology or a course correction. At this point, the general mood is "fed up."
"Many are mad, and the rest are rolling their eyes," explains David Salisbury, a lead organizer at Washington-based witch community Firefly House. For modern day witches a strong contingent of whom also identify as feminists the use of "witch hunt" represents yet another intentional jab at marginalized groups. "It is particularly horrifying because many modern practitioners of witchcraft devote their lives to seeking compassion and justice," Salisbury explains.
Fighting Back
Not all witches are taking the insults lying down, however. Some have sought to push back against the White House using the best tool available to them: magic. A community of internet witches continues to casta "binding" spell on the president monthly. Another group attempted to hex Trump'spick for the Supreme Court, Justice Brett Kavanaugh.
But others are hopeful the situation will resolve itself without the need for magical intervention. "Trump is safe from any 'witch hunt' because no self-respecting coven would have him," Kitty Randall insists. "I don't think we need to attack Trump with spells. He's in the middle of a process of self-destruction."